Finally,
A compliant text messaging app that embraces existing channels of communication. Provide resources. Feed your CRM. Elevate your relationships. Don't take our word for it, ask your HCP's. We did! A whopping 82% valued texting with reps over all other modes of communication. The reason for this is simple, text messaging saves time and eliminates unnecessary visits.
Compliance-Approved Appfor Reps
Native Texting Channel for Physicians
Zing One-Page Summary
Let's Talk
No apps, No logins, No downloads. Only 1:1 personalized interactions
The Physician's experience is important. Through ZING, they receive text messages through their normal text channels, not a separate, impersonal app. Don't break their stride. And send additional messages to HCP office staff. What if you have more than one contact at an HCP's office? No problem, ZING has you covered! You can send messages to more than one contact, and you can choose who gets what types of messages too. Or you can create your own with a simple user interface.
ZING One-Page Summary
Let's Talk
Elevate Compliance
Reps access pre-approved messages, attachments and links - at their fingertips, using the ZING web-based app environment. All of ZING's data can be stored for appropriate amounts of time, and can be pulled for legal upon request. Reps aren't able to just send messages to anyone. They can only be sent to numbers associated with an already established "contact" in the system.
ZING One-Page Summary
Let's Talk
Send SMS messages directly to HCP devices
Engage in the dynamic conversation and expand the dialogue. Frictionless for the HCP, they are texting through their normal channel. Your Sales Rep has access to approved messages and resources to send the HCP immediately. ZING enables your reps to send standard SMS or MMS text messages with MLR approved text bodies, along with corresponding digital assets. The content can be promotional, logistical or informational in nature. It's up to you!
ZING One-Page Summary
Let's Talk
Send bite-sized Assets
Co-pay cards, information sheets, hyperlinks and videos can all easily be accessed by the Rep to send quickly, saving time and resources. Sometimes more is less. With ZING your reps can send the right amount of information at the right time. No more spamming inboxes or sending too much information. You can even set expiration dates on assets. Your HCPs will love you for this.
ZING One-Page Summary
Let's Talk
Automated Response fills in the Gaps
Driven by AI, the ZING Bot recognizes common words and phrases sent by the HCP and can respond with answers and attachments immediately, given them the answers they need instantly. The Rep can dive in anytime. Brilliant.
ZING One-Page Summary
Let's Talk
Other ZING features
● Two-way calling
● Control who receives messages
● Avoid spamming HCPs
● Integrate HCP profiles with your CRM
● Ensure message receipt
● Provide notifications to internal teams
● Track individual messages
● Smart targeting - AI capabilities ensure the platform becomes smarter over time
● Maximize marketing mix with behavior and interaction data
● Build your sales database
● Receive customized care through custom development and interfaces
ZING One-Page Summary
Let's Talk
Powerful Analytics
Advanced analytics and reporting on messaging behaviors, click-through rates, even recommending time of day when physician is most interactive based on ongoing behaviors. Level up.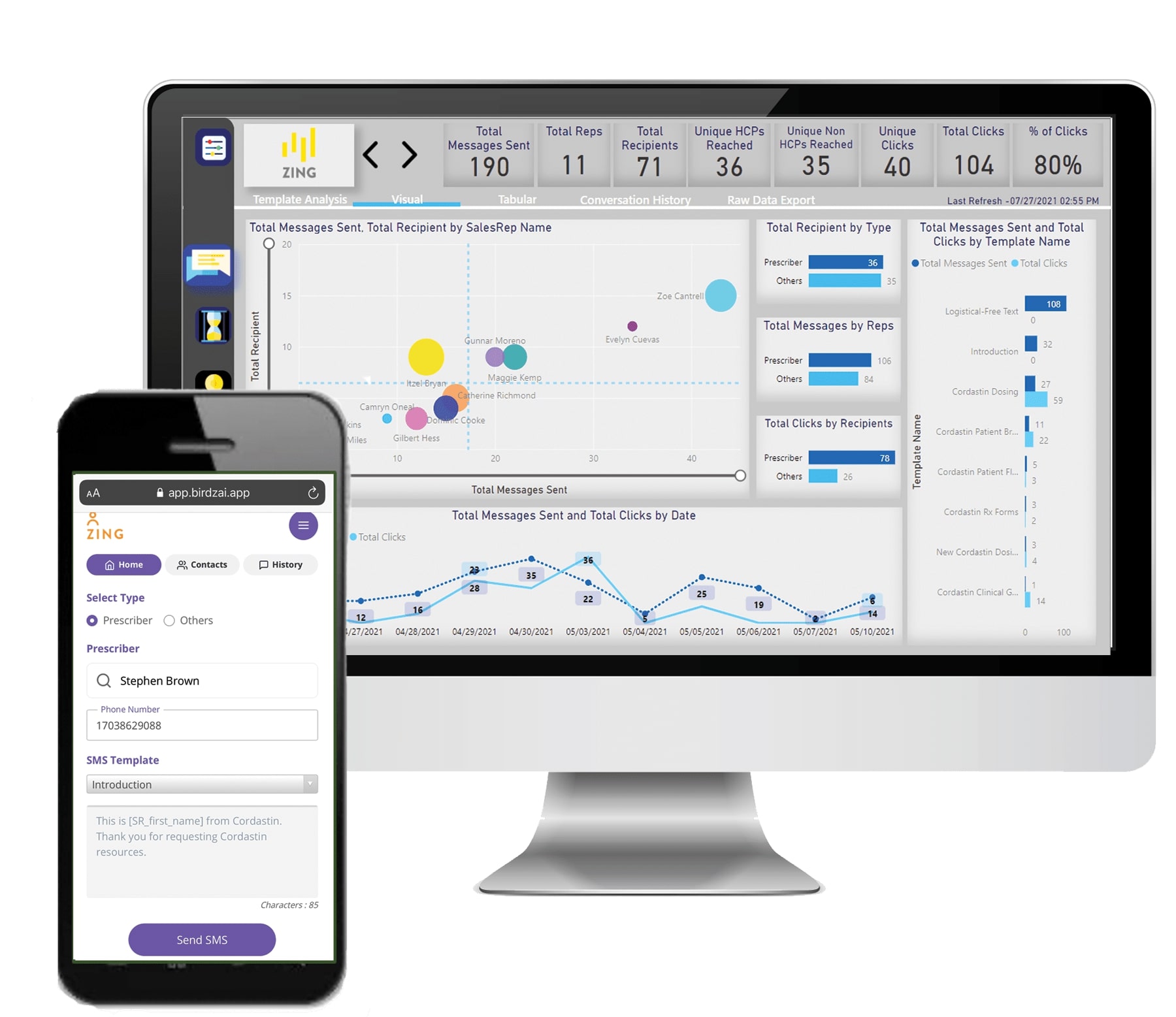 What ZING users are saying:
"How did we ever engage HCPs without ZING? This has changed how we work on a daily basis and brought efficiencies beyond our expectations."
"We love that ZING uses existing text channels for our Physicians. Their experience is important to us"
"The predictive analytics are key to engage HCPs when THEY want to chat."
"ZING brings a new level of advanced communication to my team, enabling multiple formats (text, assets, call) in one platform."
ZING One-Page Summary
Let's Talk
on ZING:
"Transforming communication within the industry…."
ZING helps healthcare professionals leverage automation for efficiency. This way, they can spend more time with their patients and less time on other tasks."
Resources Crafted for You: