11 Companies using Pharma AI to stimulate Growth in the Industry
Kimberly Brue | January 28, 2022
When it comes to growing your business or organization effectively and quickly if you had the chance to join forces with the smartest person on Earth, would you do it?
Of course, you would.
That's why many pharmaceutical companies are investing in artificial intelligence that can help them run their business nearly hands-free and stress-free. Pharma AI can learn, adapt, and often outperform humans in both calculation speed and statistical analysis, making it a formidable force in business today.
Artificial intelligence is here to stay, and it represents the future of the pharma industry by offering some unique advantages:
Improve financial decisions.
Reduce human error.
Increase performance
Boost speed to market.
Consequently, pharma AI is constantly evolving and will significantly ease many repetitive and challenging processes within the industry. Due to these unique advantages of AI, pharmaceutical giants and even your direct competitors are using pharma AI to stimulate growth and revolutionize the way they are doing business.
Here are 11 Companies Using Pharma AI to Stimulate Growth for Their Business
Recognizable pharmaceutical companies have begun to capitalize on the immense potential in research, mining records, customizing treatment to patients, and improving access between patients and health providers that the integration of AI offers. These companies include startups AND household names:
Roche1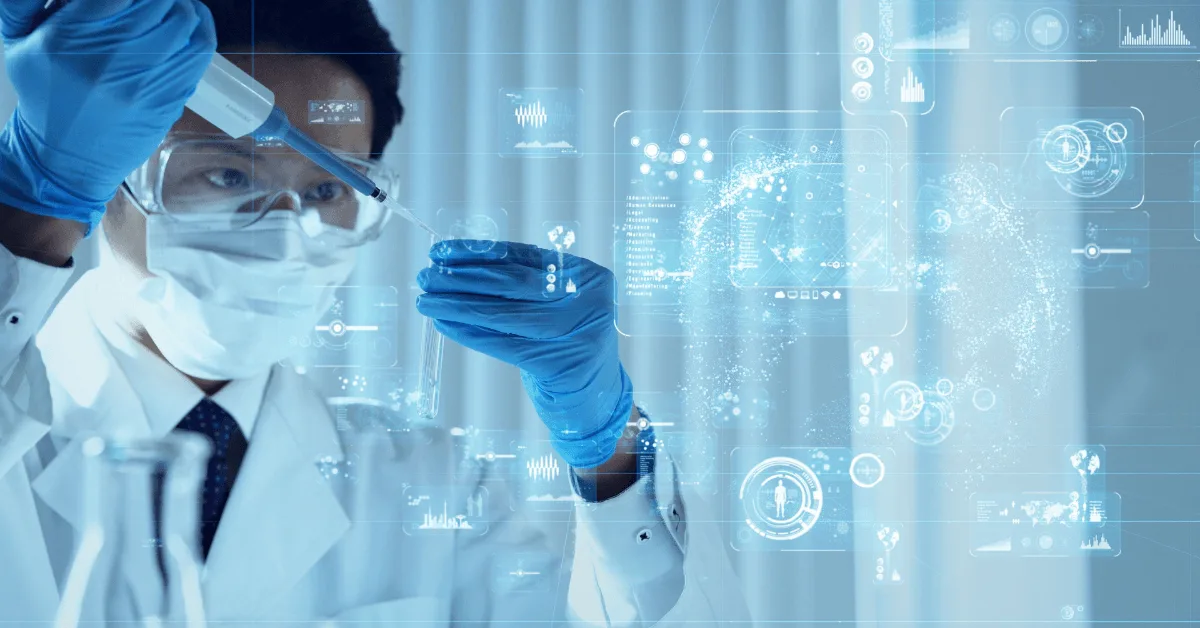 The people at Roche leverage pharma AI in their drug discovery programs. In May of 2018, Roche collaborated with Owkin2, a medical research machine learning startup, and GNS Healthcare3 to research the conversion of cancer patients' data into a computer model that targets other cancer patients deemed fit for therapy. This new approach and technological application have the potential to make it easier to determine the proper treatment that is expertly personalized for a patient with a specific gene.
iCarbonX4
iCarbonX is a Chinese company that embarked on a process to curate and map comprehensive patient data, including biological samples such as DNA, saliva, workout, and diet.The iCarbonX team is using pharma AI to develop algorithms to analyze the aggregated in order to better customize treatment, wellness programs, and food choices for individual patients. This process has already begun being used for citizens in China. iCarbonX recently expanded to Israel and acquired Imagu Vision Technologies5. They managed to raise money from companies such as Tencent Holdings ($155 million).
Pfizer6
Back in December of 2016, pharma company Pfizer collaborated with IBM Watson to advance drug discovery processes and protocols. The goal of this high-profile collaboration was to research cancer therapies and help people suffering from chronic diseases. In May 2018, Pfizer announced that they intended to ramp up pharma AI use and activity within the company, and MIT then announced the membership of Pfizer in its (MIT's) machine learning. To integrate machine learning and quantum mechanics, Pfizer collaborated with XtaliPi, to predict potential drug properties before they went through the trouble of making them. The rise in precision medicine with the application of AI, and the need to cut costs in healthcare is predicted that by 2024, the market will be worth over $96 billion.
Atomwise7
Founded in 2012, Atomwise maintained a noble objective to develop medicine at a significantly reduced cost, compared to the rest of the market. To accomplish this, Atomwise uses supercomputers to predict potential drugs that will work for a given symptom or disease, as well as those that won't.The ultimate goal of leveraging AI to do this is to save time during the lengthy drug research and development process, especially in clinical trials. In 2015, the people at Atomwise did a virtual search for medicines that could be used to reduce the infection of the Ebola virus by redesigning the existing medicine. With the help of AI, they were able to conduct the analysis in a single day, compared to the months (or years) that other analyses have taken.These same people have raised over $45 million in financing from investors such as Y Combinator and Monsanto Growth by demonstrating the power of their pharma AI applications.
Johnson & Johnson8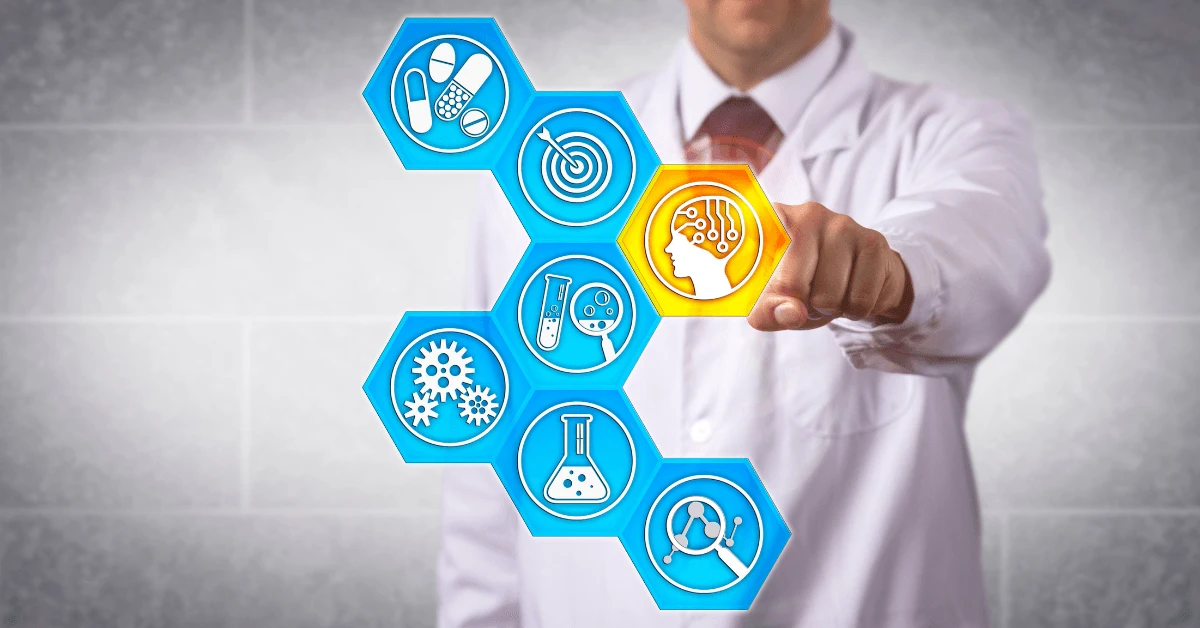 A household name, Johnson & Johnson, also collaborated with IBM's Watson health in 2015.This collaboration revolved around a pharma AI-driven app that focused on virtual patient coaching. The coaching is aimed at patients who have undergone spinal surgeries or joint replacements and provides dedicated support to them without the hassle of going into a doctor's office. In 2015, the company also ventured into surgical robotics that offers a clear video feed of patients during an operation. The resulting increase in precision and patient outcomes have set Johnson & Johnson ahead in the pharma industry.
Google Deepmind Health
Founded in 2010, Google Deepmind Health aims to use pharma AI to radically improve healthcare through machine learning processes. Google acquired the company in 2014 and aimed their research division at mining medical records to improve the efficiency of health services. Although the research is still in the early stages, patient data is encrypted with an emphasis on data security measures. Alphabet is also a Google's life sciences arm. The people at Alphabet work to analyze factors that promote patient health, including technologies that monitor diseases. By utilizing pharma AI, Google and their subsidiaries are quickly establishing themselves as leaders in the pharma industry.
Enlitic9
Enlitic uses image recognition software powered AI to pull data from radiology imaging and applies it to medical cases. This process allows them to interpret a medical image incredibly fast - in milliseconds. They use deep learning technologies to screen for diseases via medical imaging. This is done fast, accurately, and more affordably than manual methods. Enlitic also uses this technology to examine and learn from millions of medical images, with the ultimate goal of automatically identifying diseases non-invasively. Enlitic's use of pharma AI to provide rapid and accurate health overviews, their pace as a unique leader in the pharma industry is assured.
Deep Genomics10
Founded in 2014, Canadian company Deep Genomics uses deep machine learning to decipher the meaning of a specific genome and to predict the potential effect of a mutation within that genome. They have also developed a database that predicts the unique impacts that genetic variations can have on the genetic code. This is particularly useful in determining genome-based therapeutic development, molecular diagnostics, targeting biomarker discovery, and evaluating risks from genetic disorders. Using AI, Deep Genomics has developed a platform that works to identify drugs that are effective at targeting the genetic determinants of disease. They also have plans to come up with new anti-sense oligonucleotide therapies. Deep Genomics has composed over 1,000 chemical compounds, which can be quickly and easily searched using their algorithms.
Novartis11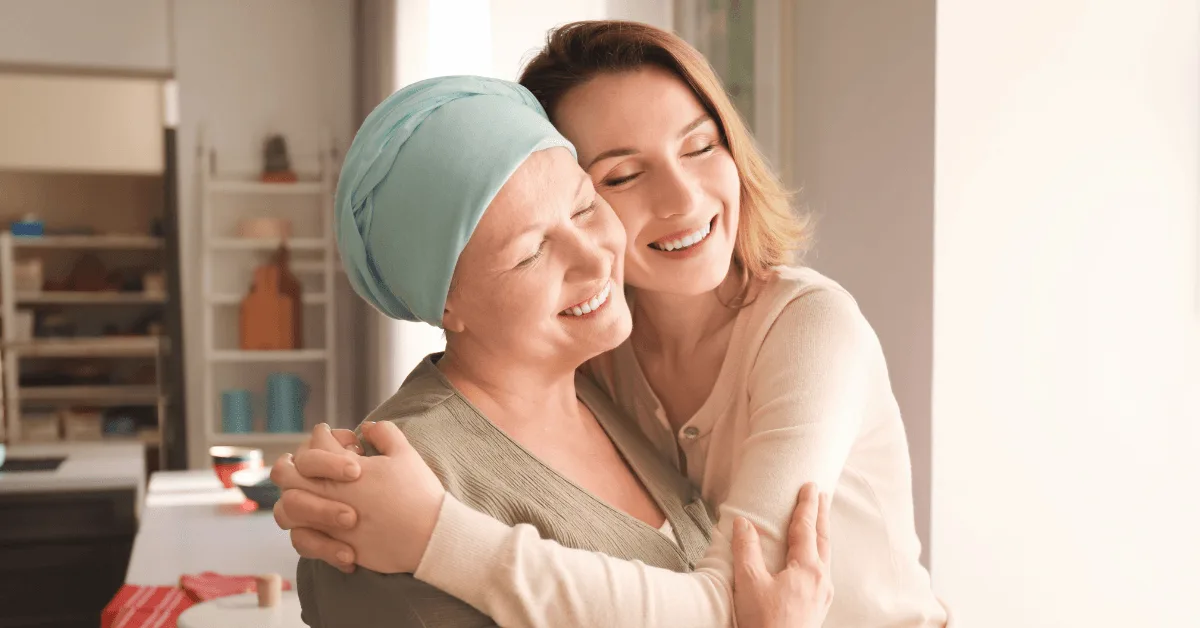 In 2017, Novartis collaborated with IBM Watson Health to improve healthcare for breast cancer patients. Earlier in the same year, Novartis had also collaborated with Cota healthcare12. This collaboration was aimed at developing new breast cancer therapies and identifying the patients who can benefit most from these therapies. The teams at Novartis leverage pharma AI and machine learning to impact future drug development that is aimed at using real-time data to come up with a cognitive solution that provides insight into the outcomes of treatment options provided to the patients. In 2018, Novartis rebuilt its technology infrastructure and used a single hub to correct their data. Currently, they are developing predictive analytics models, using machine learning algorithms, that are designed for use in clinical trial operations.
Bay Labs13
A privately held company based in the San Francisco area, Bay Labs focuses on improving medical imaging by combining ultrasound technology and deep learning for better treatment of heart diseases. They began this program by targeting developing countries like Kenya, and in 2016, they conducted tests to identify symptoms of heart illness in Kenyan children. Their pharma AI application scans cardiovascular imaging when diagnosing heart diseases and their algorithms perform the task in just a few minutes. They provide physicians with key data and high-quality ultrasound images. In 2017, Bay Labs completed a $5.5 million financing from investors led by Khosla Ventures. In the same year, they were recognized in NVIDIA's inception competition as among the most promising start-ups.
Explore More Relevant Articles on P360
Recursion Pharmaceuticals14
Recursion Pharmaceuticals, a drug discovery company based in Salt Lake City, Utah, integrated AI-driven automation into their work and discovered novel uses of some drugs. Recursion Pharmaceuticals is already making waves in the industry by combining pharma AI with bioinformatics and experimental biology to identify treatments for diseases with the goal of curing 100 diseases in ten years. As a result of using updated AI, their $60 million financings, led by Data Collective15, raised their total capital to over $80 million.
The Future of Business is Artificial
Companies using pharma AI to stimulate growth in the life sciences space have generated their fair share of buzz, and the overall growth in the pharma industry has been directly impacted by the smart applications of pharmaceutical artificial intelligence.
With the help of AI, the sky is the limit for growth in the life sciences industry and any company worth their salt is currently using some form of pharma AI to impact growth in different sectors of their business. Interested in learning more about how pharma AI can impact growth for your company? Get in touch with us today for a free consultation on the capabilities and applications of AI and how they can maximize your growth!
References:
1. https://www.roche.com/
2. https://owkin.com/
3. https://www.gnshealthcare.com/
4. https://www.icarbonx.com/en/
5. http://www.imagutech.com/technology.html
6. https://www.pfizer.com/
7. https://www.atomwise.com/
8. https://www.jnj.com/
9. https://www.enlitic.com/
10. https://www.deepgenomics.com/
11. https://www.novartis.com/
12. https://www.cotahealthcare.com/
13. https://baylabs.io/
14. https://www.recursionpharma.com/
15. https://www.dcvc.com/