March 6, 2023
How Technology Will Impact Pharmaceutical Sales In 2023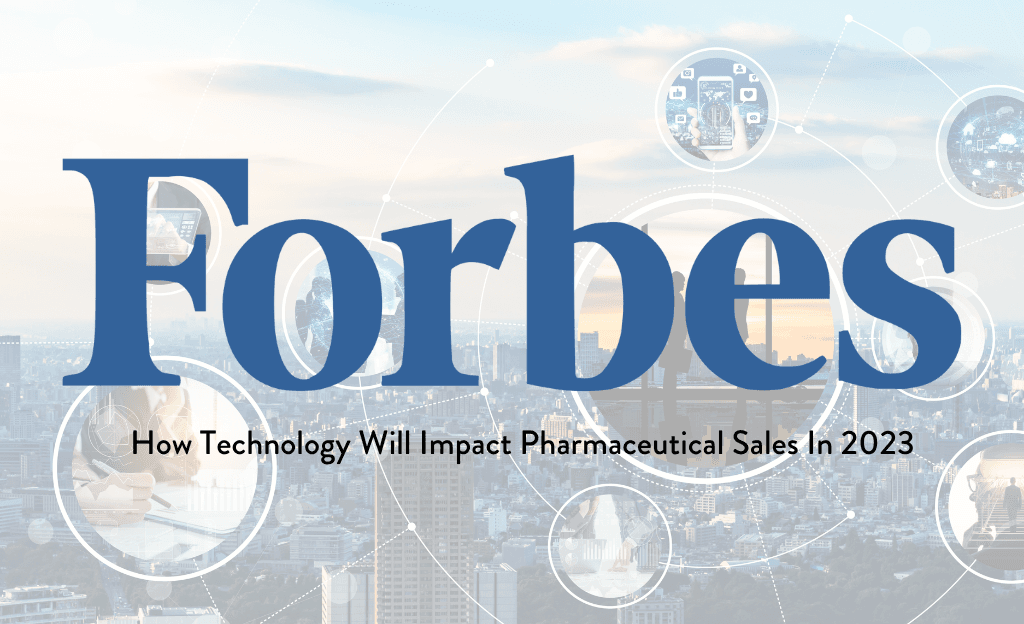 Anupam Nandwana1 is co-founder and CEO of P360, a leading developer of technology for the life sciences industry.
In today's digitally transformed world, technology plays a critical role in how pharmaceutical companies do business. From drug discovery to manufacturing and commercialization, technology is powering the industry through an era of unprecedented change.
This is especially true in pharmaceutical sales, where mounting regulations, tightening policies and other hurdles associated with pharma-to-physician relations are creating unique challenges. And, as the nuances of pharmaceutical sales become more complex, the role innovative technologies play in a rep's day will only become more ubiquitous.
As advances in artificial intelligence (AI), cloud computing and data analytics continue into 2023, pharmaceutical companies can access more data and insights on prescribers than ever before. As a result, reps should be able to more accurately target their efforts and tailor their sales outreach for the needs of healthcare professionals (HCPs) in an easier, more seamless way.
The Trends That Will Inform 2023
From streamlining processes to improving physician engagement, technology will continue to revolutionize how pharmaceutical commercial operations conduct business. Following are some of the most notable trends to follow:
Data Management
In today's digital age, it's easier than ever for pharmaceutical companies to collect customer data. But unfortunately, much of the data that companies acquire isn't being used to its full potential because, like other industries, pharma companies have a ton of unstructured data. Research from MIT indicates that 80% to 90% of the data businesses accumulate2 is unstructured, and it's nearly impossible to apply business intelligence models to this data.
To better leverage their data—coming from internal sources and third-party vendors such as IQVIA, Symphony, specialty pharmacy providers and others—pharmaceutical sales teams will likely increase investments in data management tools in 2023. In fact, spending by pharma on data analytics3 is forecast to grow by 27%, to $1.2 billion by 2030.
Cloud Computing
Cloud computing will also continue to play an essential role in pharmaceutical sales. As such, investments in cloud-based software solutions like Salesforce Health Cloud or Microsoft Dynamics 365 for Healthcare will continue into 2023. In support of this, analysts predict that pharma's investments in cloud computing will reach $59.3 billion by 20304. These investments are critical because cloud-based systems make it much easier for pharma reps to stay up to date on their customers' needs and preferences, which can lead to improved customer service and increased sales opportunities.
Artificial Intelligence
For sales organizations, AI can help sales teams better understand their customers by enabling them to analyze large data sets quickly and accurately. For example, AI-powered algorithms enable a more personalized experience by providing tailored communication based on prescriber data. Furthermore, AI algorithms can be used to identify potential new markets or customers who might benefit from certain therapeutics, allowing pharmaceutical companies to target these segments more effectively with tailored promotions or campaigns.
It's this level of insight that should fuel investments in AI well beyond 2023. Analysts predict that the market will reach $9.24 billion by 20305, which is well beyond 2021's $905 million.
Automated Communication
It has become increasingly important for pharma to have an always-on presence that allows them to engage with patients and prescribers personally. For example, AI-powered chatbots can be used to answer common HCP questions quickly and accurately in real time. This is another area where AI should drive investment, especially as companies look for more ways to create more personalized experiences for customers6.
Mobile Engagement
The use of mobile apps has improved the efficiency of pharmaceutical sales teams by providing access to vital information at any given time. Unfortunately, however, as the number of apps grow, prescribers may become inundated with apps. And they don't have time to fumble with portal logins or other time-consuming hurdles. As such, 2023 will be all about utility and efficiency, and native messaging platforms can offer that.
Digital Health
Merck, GlaxoSmithKline (GSK), Pfizer, Novartis, General Atlantic and others have made significant plays in digital health over the last year. In April, along with CVS Health and others, General Atlantic led a $300 million Series D7 round into digital therapeutics startup Biofourmis, which combines AI and biosensors to monitor the progress of medical treatment. And as the digital health market heads closer to its projected $42 billion by 20278, analysts expect this momentum to continue in 2023 and beyond.
How Companies Can Overcome Implementation Challenges
As the pace of change within the industry accelerates, it's clear that companies will need to invest in innovative new technologies to stay competitive. However, with these investments come significant challenges. Here are some of the biggest (and how to overcome them):
Adopting new technology can be a daunting task at times, which can cause a natural resistance to change. But by involving leaders and end users in the process of setting companywide goals, it encourages adoption and success.
Pharma is facing an overwhelming challenge to keep up with the growth of available information and make well-informed decisions. To combat this problem, organizations must work to create harmony between their internal and external data sets to gain a comprehensive understanding of operational insights.
There is a lot of pressure on pharma IT teams to maximize the potential of machine learning and AI. However, this requires strong data management and master processing capabilities to ensure uniform execution, a challenge that can be defeated or exacerbated by mismatched data sets. Investing in sound data infrastructure could prove invaluable for organizations aiming at success with these tools.
There is no one-size-fits-all solution. As such, rather than blindly adopting new solutions, organizations must assess their existing IT resources and understand the impact of the enhancement.
With Europe leading with GDPR guidelines and California bringing in its own consumer protection rules (CCPA), there will be critical decisions impacting data management across borders. Proactivity is key to addressing these concerns.
Although the challenges of managing innovation can be daunting, investments in technology will continue in 2023 and beyond. With the right strategy in place, pharmaceutical executives can overcome any challenges and emerge as true leaders in the field.
Explore More Relevant Articles on P360
References:
https://www.linkedin.com/in/anandwana/
https://mitsloan.mit.edu/ideas-made-to-matter/tapping-power-unstructured-data
https://www.pharmaceuticalcommerce.com/view/-next-best-action-for-data-analytics
https://straitsresearch.com/report/cloud-computing-in-pharmaceutical-industry-market
https://www.biospace.com/article/ai-in-the-pharmaceutical-market-size-to-worth-around-usd-9-24-bn-by-2030/
https://pharmaphorum.com/views-and-analysis/automating-and-optimising-hcp-engagement-to-maximise-commercial-success/
https://www.forbes.com/sites/katiejennings/2022/04/26/health-ai-startup-biofourmis-hits-13-billion-valuation-with-series-d-funding/?sh=9d89c2b14a27
https://www.statista.com/outlook/dmo/digital-health/united-states
Contact:
Kathleen McQuade
kate.mcquade@p360.com
Latest News