December 16, 2022
How P360's Technology is Transforming Pharmaceutical Sales and Marketing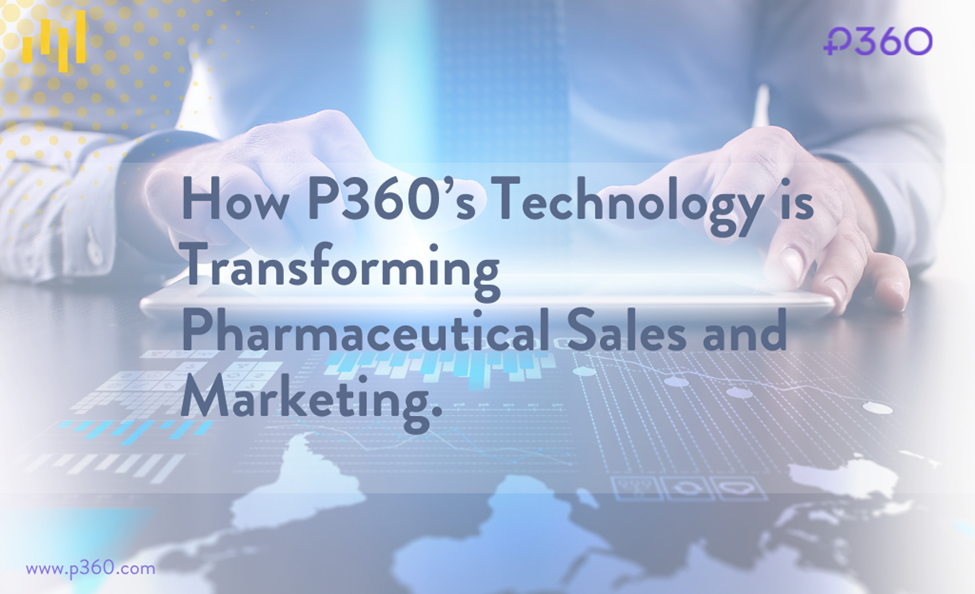 Like many IT professionals from around the world, it was an opportunity that first brought P360 co-founder and CEO Anupam Nandwana to America's shores. The 1990's tech boom was just starting when Nandwana landed in sunny San Diego, California, to work on an enterprise software project for an industry-leading pharmaceutical company. And unbeknownst to him at the time, it was a project that would change his life. Soon after he completed his first project, Nandwana found himself zigzagging across the U.S., working on large-scale customer relationship management (CRM), data and analytics projects for some of the largest pharma companies in the world.
Although each experience was incredibly fulfilling, Nandwana sensed something was still missing. He knew he was destined for something bigger. But it wasn't until a decade after first arriving in the U.S. that he would learn what that missing piece was. That's when he met his co-founder and COO Ed Vaz while working on a project. The software developers, who both hailed from Western India, quickly learned that they shared a mutual dream: to build their own software company.
"The community I came from is known for entrepreneurship," said P360 co-founder and CEO Anupam Nandwana. "Growing up, I watched a lot of people around me build businesses, and this lit the entrepreneurial fire in me at an early age. And Ed shares that same passion."
In 2007, Nandwana and Vaz combined their vision, passion and know-how and launched P360, which helps pharmaceutical companies connect with patients, partners and healthcare professionals in a more efficient, less abrasive way. And despite launching during one of the biggest economic downturns in U.S. history, the endeavor has been a huge success. Self-funded and self-sustaining, P360 now has over 200 staff members globally, with a compound annual growth rate (CAGR) of more than 50 percent over the last four years. The secret being the company's staff and its innovative products and services.
"At P360, we offer a variety of unique products for pharmaceutical businesses, particularly for managing the commercial business, including sales and marketing enablement, clinical trials, lab workstreams, enterprise data management, and AI and machine learning," said Nandwana. "We also customize solutions and build new platforms depending on client needs."
Over the years, P360 has developed several new technologies designed to help pharmaceutical commercial operations and the healthcare community to better coexist. According to Nandwana, this is something that companies have been asking for.
"Right now, pharmaceutical sales reps are having a very hard time connecting with prescribers and their staff," added Nandwana. "In-person meetings are extremely hard to secure, email open rates are in the single digits in most cases, and healthcare professionals just don't have extra time in the day. However, despite these barriers, it is vitally important for patient care that pharmaceutical companies remain connected with the care community. In addition to the challenges with engaging in person, most life sciences companies are working towards building digital-first engagement model."
Three of P360's most popular technologies are the Swittons IoT-enabled smart device, ZING Engagement Suite, and BirdzAI Data and Analytics Platform. Swittons is a ubiquitous enterprise solution that extends remote ecosystems, provides automations and enhances controls by enabling true human-to-digital workflows. Combining RFID technology with push-button functionality and built-in mobile connectivity, Swittons can both authenticate and streamline key processes within service ecosystems, supply chains, customer communication, manufacturing, inventory controls, emergency response, and more. The full lineup of Swittons smart devices has become extremely popular within the pharmaceutical industry to streamline remote physician engagement, lab operations, clinical trials, and more by automating frequent requests and triggering communication channels.
P360's second solution, the ZING Engagement Suite, is robust unified communication as a service (UCaaS) platform that enables pharmaceutical sales teams to engage with healthcare professionals (HCPs) via multiple modalities without barriers. ZING addresses all the pain points associated with traditional HCP engagement by enabling compliant omnichannel communication with features including text messaging, two-way voice and video calling, onscreen collaboration and form sharing, inbound communications with QR code scanning, artificial intelligence (AI) assistance, signature capture, easy access integrations and more.
"The ZING Engagement Suite is the only platform available that equips pharmaceutical sales and marketing teams with everything they need to engage with healthcare professionals in a streamlined, digital-first manner, which is quickly becoming the norm," stated Nandwana. "ZING integrates with leading CRMs and is full of powerful features that enhance any sales enablement strategy or workflow. But for HCPs, ZING offers a seamless, hassle-free experience that is seen as nothing different from their normal mobile communication method. There are no apps to download or logins and subscriptions for end-users to deal with."
Building on the momentum created by Swittons and ZING, P360's most recent and most complex innovation is the BirdzAI Data and Analytics Platform, which includes four powerful pre-built modules for Master Data Management, Insights & Analytics, Sales Operations and Marketing Operations. The next-generation ecosystem supports pharmaceutical commercial operations with rapid, end-to-end data management capabilities, including the ingestion, storage, processing and analysis of data derived from commonly used sources like first and third-party prescription data, specialty pharmacy data feeds, CRM systems, marketing interactions reports and more. The robust yet flexible solution also integrates easily with any commercial operations workflow and creates a single source of truth by bringing all an organization's sales and marketing data sources together into a unified data lake. And its advanced AI and machine learning algorithms then turn that data into insights for real-time sales and marketing operations decision-making, including forecasting, brand propensity analysis, next-best-action insights, customer alignment, territory planning and incentive compensation strategy.
"With BirdzAI, we are giving pharmaceutical commercial operations the ability to build a solid data and analytics foundation in an agile and efficient way," said Nandwana."No other enterprise solution offers this level of flexibility and customization. And as with all of our solutions, we're disrupting the industry in the least disruptive way possible."
According to Nandwana, disruption can be both a good thing and a bad thing. And the difference between good and bad usually boils down to the amount of disruption, the timing of it and how abrasive it is.
"For companies like P360 that operate in the enterprise software space, major disruption is usually a big gamble," explained Nandwana.
"Companies have too much invested in legacy systems for there to ever be a sudden and complete change. As such, the key is to develop smaller disruptions that still live within that larger ecosystem. It's somewhat of a puzzle, but that's what makes it fun."
They say If you do what you love, you'll never work a day in your life. For Nandwana, Vaz and the entire P360 team, that seems to be a key ingredient in the company's recipe for success. And it will be exciting to see what P360 comes up with next, as it continues to tastefully disrupt and transform the $40.76 Billion life sciences software industry.
References:
https://www.techtimes.com/articles/284059/20221128/how-p360-s-technology-is-transforming-pharmaceutical-sales-and-marketing.htm
Contact:
Brian Fitzgerald
Brian.Fitzgerald@P360.com
808-754-0437
Latest News