November 12, 2020
P360 Introduces BirdzAI ZING Communication Module, Enabling Compliant SMS Text Messaging to Physician Customers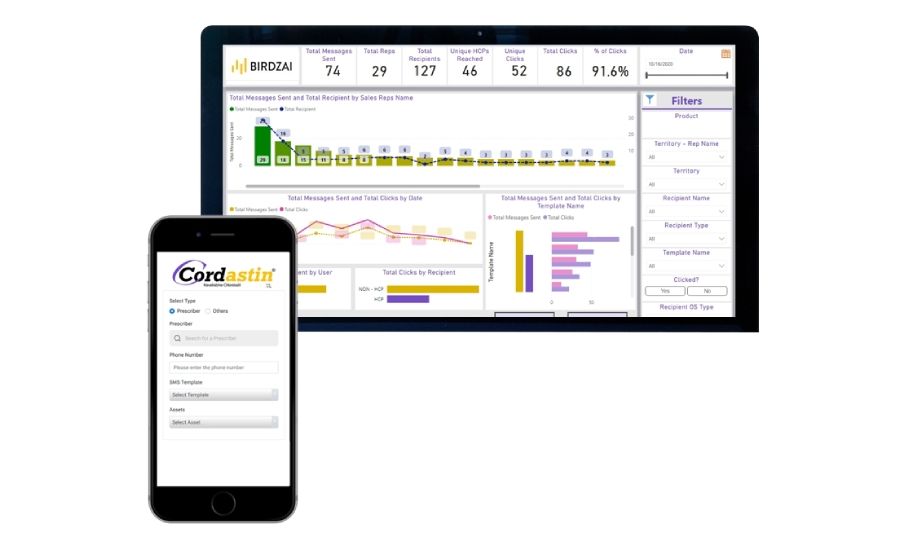 Pharmaceutical commercial organizations can send pre-approved, templated text messages and digital assets to physician customers without compromise
PISCATAWAY TOWNSHIP, NJ – November 12, 2020 -- P360, a leading developer of technology for life sciences companies, today announced the BirdzAI ZING Communication Module. ZING lets life sciences sales teams send custom branded, templated text messages and other digital assets (via already established text channels) to physician customers that are both personalized and compliant. ZING is a stand-alone product that helps reduce mass marketing inundation, and it integrates seamlessly with P360's BirdzAI sales enablement platform to enable real-time decision-making that is powered by advanced AI capabilities.
"With the BirdzAI ZING Communication Module we are helping life sciences companies deliver compliant text messages and other digital assets to physician customers that are not only targeted, but that get opened," stated P360 CEO and Founder Anupam Nandwana. "When combined with the advanced AI capabilities of our BirdzAI sales enablement platform, ZING becomes one of the most powerful sales products on the market. Not only do companies get the intelligence needed to make great sales prospecting decisions, they also get the power of an effective, efficient communication channel as well."
With ZING, pharmaceutical reps can send compliant, native SMS Text messages directly to physician customers without barriers. There are no Apps for end-users to download, and there are no subscriptions for them to deal with. To the end-user, ZING offers a seamless, hassle-free experience.
What makes compliant text messaging so powerful is the fact that recipients actually open and read them. According to recent research, text message open rates are as high as 98%, compared to just 20% for email. This makes ZING an efficient way to effectively communicate with customers, without impacting sales resources.
ZING is also extremely flexible. The product comes equipped with text templates that can be updated often to provide variety and personalization. P360 will work with your brand team to develop starter template messages that are compliance approved, or you can create your own with the simple user interface. For sales teams, this makes for seamless engagement, because all content and message templates can be pre-approved by compliance.
The ZING user portal can be branded and completely customized, and offers administrators a simple way to track individual messages, link clicks, digital asset views and more. The data from the system also integrates back to sales profiles in existing CRM systems. The powerful backend dashboard even offers custom reporting and other management tools.
The BirdzAI suite of products has experienced significant growth over the last few months. In September, P360 announced major updates to the BirdzAI platform, including Artificial Intelligence (AI) capabilities that enable real-time decision-making for sales organizations by providing deep insights derived from a wide variety of proprietary and tertiary datasets. Key features include sales forecasting, churn prediction, brand propensity analysis, next best action insights and more.
BirdzAI, which is backed by P360's robust Data360 commercial data hub, enables life sciences companies to manage their business processes and data from a single platform, eliminating manual work and operational delays. With BirdzAI, remote teams are also able to share data with the enterprise without delay, no matter where they might be.
Explore More Relevant Articles on P360
For more information about the BirdzAI ZING Communication Module, visit the web page HERE. For more about P360, visit P360.
About P360
Based in Piscataway Township, New Jersey, P360 is a leading developer of technology for the life sciences industry. Product offerings include BirdzAI, PatientJourney360, Data360, Trials360 and Swittons. To learn more about P360, visit P360.
Contact:
Brian Fitzgerald
Latest News