September 17, 2021
P360 Boosts Its ZING SMS Communication Module With Multimodal Enterprise-grade Features for Compliant Communication With HCPs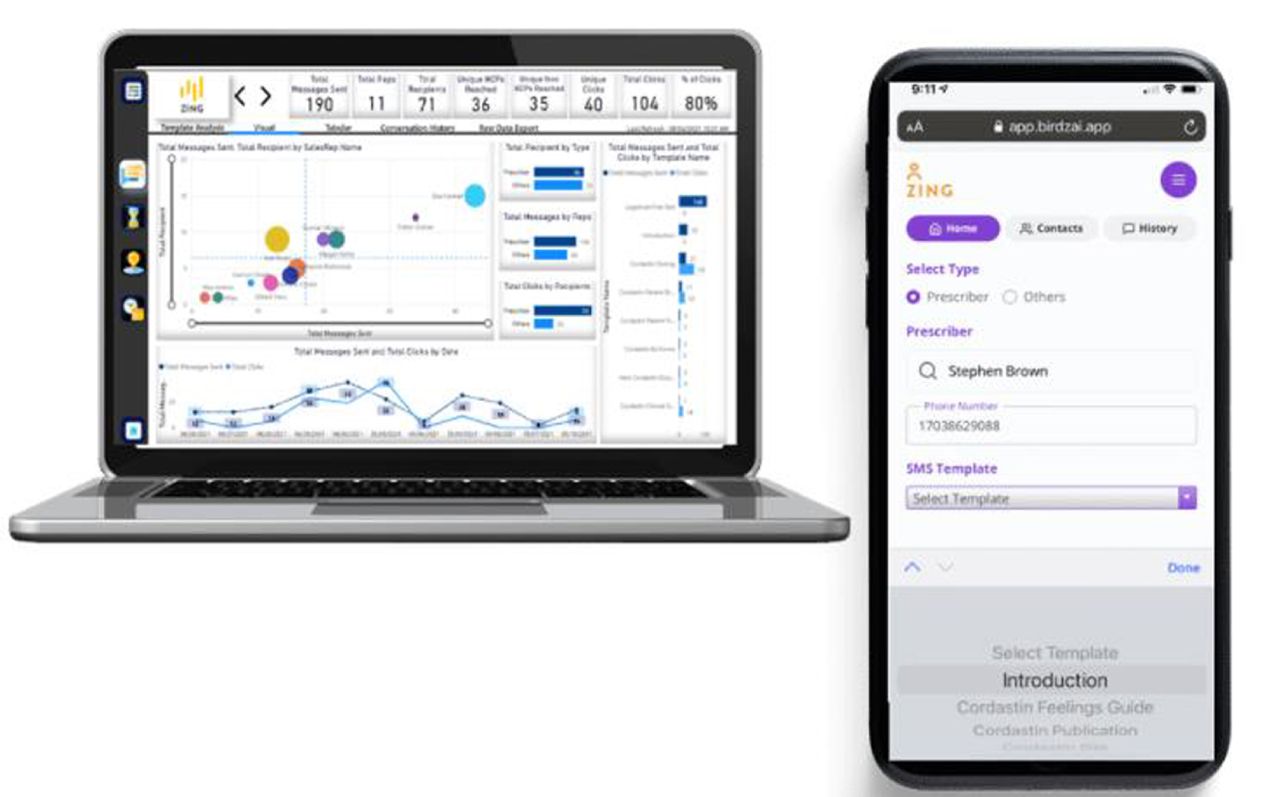 Innovative new UCaaS platform powers sales teams with compliant SMS text messaging, call triggering, asset delivery, activity tracking and more
PISCATAWAY TOWNSHIP, NJ – September 22, 2021 -- P360, a leading developer of technology for life sciences companies, today announced that its ZING Communication Module has been enhanced with several new enterprise-grade unified communication features. Not only does the ZING unified communications as a service (UCaaS) platform enable life sciences sales teams to send custom branded, templated SMS text messages and other digital assets to healthcare professionals (HCPs), it now features two-way calling, activity tracking, smart automations, flexible integrations and more.
"The ZING Communication Module is a powerful UCaaS platform that's helping life sciences companies deliver compliant, unified one-to-one communication to healthcare professionals that is not only targeted but that is welcome," stated P360 CEO and Founder Anupam Nandwana. "With its new upgrades, ZING is now one of the most powerful HCP engagement platforms on the market. Not only can sales teams easily deliver much-needed information to HCPs and their staff, they can also obtain marketing data that makes future engagements more meaningful. And they get the power of an effective, efficient communication system as well. This is not a mass-texting system – it is a dynamic, professional platform for powering the direct communication that already exists through this interface."
With the ZING UCaaS platform, life sciences sales reps can exchange compliant two-way unified messaging with healthcare professionals without barriers. There are no apps for end-users to download and there are no subscriptions for them to deal with. To HCPs, ZING offers a seamless, hassle-free experience that's seen as nothing different than their normal method for receiving texts. This is something HCPs are asking for.
During a recent Webinar session with P360 CEO Anupam Nandwana, double board-certified physician and panelist Dr. Mandira Mehra confirmed that, from a doctor's standpoint, communication with life sciences reps has become inefficient. Although an integral part of a physician's work, she noted that the process of accessing or contacting reps can be very frustrating.
"Physicians want engagement at their own pace, at their own time, and they want to initiate it," said Dr. Mehra. "I still have a stack of business cards with the information of 20-30 different pharmaceutical and medical device reps. I cannot think of any other industry that would do that – if I order food or call a cab, everything is streamlined and really done through the phone."
The response to ZING from life sciences companies has been strong as well. Within the first six months of launch, over 50 pharmaceutical organizations have expressed interest in ZING, including each of the top 10 global companies – with five of them currently engaging in deployment discussions."
ZING addresses all the pain points associated with traditional HCP engagement methods and more by enabling life sciences sales organizations to:
Exchange SMS Messages directly with HCPs and staff: ZING enables sales reps to augment their existing 1:1 communication and send text messages with MLR approved text bodies, along with corresponding digital assets. The content is flexible – can be promotional, logistical or informational in nature.

Send bite-sized assets, hyperlinks and videos instantly: Reps can send the right amount of information at the right time. No more spamming inboxes or sending too much information.

Customize and brand messaging: ZING comes equipped with text templates that can be updated often. P360 will even work with brand teams to develop starter template messages that are compliance-approved.

Receive messages: ZING can be enabled to allow inbound messaging from customers as well.

Two-way calling: Outbound and inbound calling are available with ZING.

Automated Responses: ZING offers automated response functionality that reps can seamlessly intervene with when necessary.

Ensure compliance: All messages, digital assets and replies can be preapproved by compliance and preloaded into the system. They can also be locked to outside edits and can be made visible only to the reps that need them. In addition, all data can be stored as per enterprise data standards.

Integrate HCP profiles with your CRM: The data from ZING integrates back to sales profiles in existing CRM systems.

Harness powerful analytics: All interactions with contacts are tracked within the ZING application. This includes: number of messages sent by reps and customers; territory; date/time; number of messages by templates and breakdown of usage; time and day when reps and customers are most active; message open and click-through rate; customer location, browser, operating system and device used; and breakdown of customer vs non-customer.

Get more targeted over time: ZING's powerful AI capabilities enable the platform to become smarter over time. The system uses past text message interactions to determine the best time to contact and more.

Create custom reports: The powerful backend dashboard offers custom reporting and other management tools. This includes a geographical view of message activity, activity readout regarding clicks and much more.
In recognition of its continued innovation within pharmaceutical commercial operations, P360 was recently named in Gartner's Hype Cycle for Life Science Commercial Operations, 2021. P360 was listed in the Life Science Sales Performance Management (LSSPM) category. As per the report, "LSSPM is a suite of operational and analytical functions that automate and unite sales planning and operational sales processes."
In addition to being listed as a sample vendor in Gartner's Hype Cycle report, P360 COO Edward Vaz was recently named to the PharmaVoice 100, which recognizes the most inspirational, motivational and transformational individuals throughout the life sciences industry.
For more information about the ZING Communication Module, please visit the product landing page HERE. For more about P360, visit P360.
About P360
Based in Piscataway Township, New Jersey, P360 is a leading developer of technology for the life sciences industry. Product offerings include BirdzAI, PatientJourney360, Data360, Trials360 and Swittons. To learn more about P360, visit P360.
Explore More Relevant Articles on P360
Contact:
Brian Fitzgerald
Latest News