How to Restart Pharma Labs in 2021
Brian Fitzgerald | December 3, 2020
There is no doubt that the COVID-19 pandemic unleashed a whole lot of chaos for pharmaceutical organizations in 2020. It impacted everything from in-person meetings with physician customers to patient management and more. Even pharmaceutical labs, the backbone of every pharmaceutical commercial operation, weren't spared from the pandemic's wiles.
So with all the chaos, how are pharmaceutical executives supposed to keep pace with therapeutics development when labs have had to either restrict use or close altogether? The answer lies in what companies do now to prepare for an effective reopening in 2021.
Getting back up to speed while future-proofing operations won't be easy given the pandemic's devastating impacts. And each company will have its own unique path for reopening. However, there are some universal strategies that pharmaceutical executives can focus on in order to make the new year a great one. Here are a few to consider:
Start with the physical space to improve social distancing.
To make the best use of your physical space, while also safeguarding staff, take steps to better understand the ways in which people interact with each other within the lab space itself. Do they typically work side by side, or are they separated already? How much space is available for work in private?
While the normal lab is far less dense than the average office space, social distancing will still prove challenging given the collaborative nature of pharmaceutical research and development. As such, new floorplans should accommodate both epidemiological guidelines and employee comfort levels. It's important to create criteria for floorplans that take social distancing into account, and that reflect real-world employee space demand.
With these insights in mind, you can evaluate occupancy and/or space planning strategies based on how they affect both safety and lab productivity. For example, rotating staffing may help limit the number of staff on-site at any one time, but it may also compromise productivity. Or, if you're in a position to grow, you may want to consider how a new facility could support rapid upsizing and downsizing as conditions evolve.
Use technology to drive efficiency.
There are many ways that technology can be used within pharmaceutical lab environments, which is one reason Lab of the Future (LoTF) initiatives have gained in popularity recently. On the facility management side, organizations should consider deploying smart building systems and wireless equipment sensors to better manage indoor air quality, supporting employee health while also reducing energy costs and overall operating expenses. There are also RFID enabled badges and key cards that can help manage traffic flow, limiting how many people are in a given room at any time.
However, when it comes to automating various laboratory workflows between people and existing digital lab equipment, systems and solutions, our Swittons Internet of Things (IoT) powered omnichannel platform helps take LoTF to the next level. Built on an agile technology platform, Swittons devices are easy to deploy within pharmaceutical laboratories of all types, with a flexible user interface that not only integrates with other systems, but other IoT devices as well.
This flexibility gives labs the power to create their own LoTF, configured in the way that works best for their specific use case. This means Switton devices can be uniquely programmed, even within an individual laboratory, so end users aren't forced into workflows that don't fit their job function. In addition, the devices are designed to be compatible with existing IT systems and integrate with lab support platforms and services such as LIMS, eDOC and ticketing systems. Swittons also features a powerful backend portal and reporting system, where administrators can view user CLICKS in one convenient location.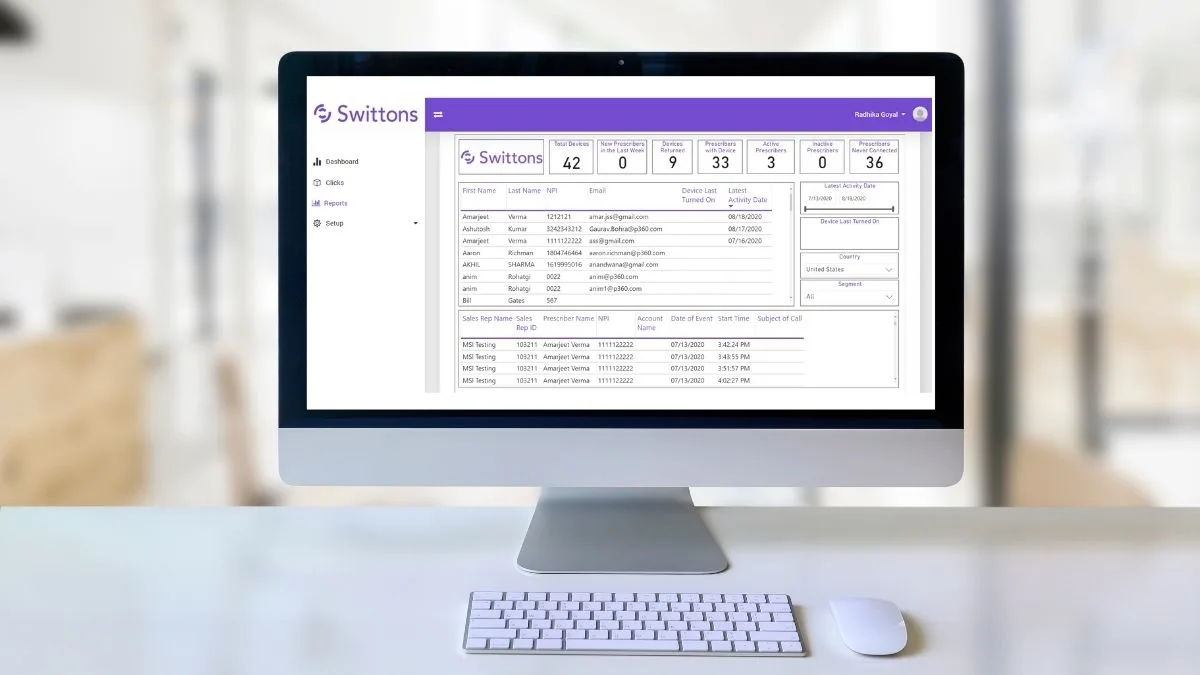 The devices are even able to trigger phone and video calls via a built-in integration with Microsoft Teams1, and can be custom branded and programmed for a wide range of laboratory scenarios. In pharmaceutical lab settings, Swittons fills the gap between the scientist and the lab by automating functions such as: trigger equipment maintenance, opening equipment service ticket, notifying of temperature control deviation, re-stocking disposable supplies, summoning a lab runner and much more.
Swittons is built on Microsoft Azure2, and each device comes out of the box ready and automatically connects through a Wi-Fi or GSM cellular connection. More information about Swittons for LoTF initiatives is available here.
Ramp up health, quality and safety procedures.
Of all industries, pharma is probably the best equipped when it comes to meeting COVID-19 safety standards. After all, what lab doesn't already have detailed guidelines for hand washing, personal protective equipment and other safety standards and protocols?
Even though those standards and protocols exist, however, it is a great idea to bump them up a notch or two because of COVID-19. For example, HVAC maintenance teams will need to monitor air quality more closely to curb contagion risk. Janitorial teams will need to perform intensive cleaning even more regularly. Human resources teams might even consider a means of checking temperatures at all entry points. And most importantly, your organization should ensure that all personnel understand and adhere to all standards and protocols, without exception.
In addition, Enterprise grade digital platforms like Swittons can also be used to enhance safety and reduce contamination in labs. The smart devices can be used to automate functions like the reorder of lab supplies at the push of a button, reducing the need for people to enter the labs to check stock of reagents and other mission critical items.
Explore More Relevant Articles on P360
Consider how remote work could eventually become more viable.
Already, as more and more data scientists enter the R&D process, we've seen an industry shift from mostly wet lab space, to a more even mix of wet lab, flex lab and computational science space. Such teams, who can function effectively in an office-like space, may also be able to work remotely without too much disruption, especially when powered by tools and solutions developed by P360.
Enabling some amount of virtual lab work could be a boon for some companies even beyond COVID-19. Leasing, for instance, could become more viable, giving firms the flexibility to expand or contract as market conditions change. Conversely, larger companies with their own large campuses could consider sale/leasebacks to monetize their space and/or exit some of it if not needed.
Looking beyond the pandemic
No one knows for certain how pharma will emerge from the pandemic. But what is certain is that now is the time to take a fresh, holistic approach to both physical and digital transformation. Think about how your organization can better support its workforce with safe, effective work environments. How might a comprehensive facility overhaul better support health and productivity?
By considering this question through a post-COVID lens, pharmaceutical leaders can better guide their organizations through troubled waters.
About P360
Based in Piscataway Township, New Jersey, P360 is a leading developer of technology for the life sciences industry. Product offerings include BirdzAI, PatientJourney360, Data360, Trials360 and Swittons. To learn more about P360, visit P360.com.
References
1: https://www.microsoft.com/en-us/microsoft-365/microsoft-teams/group-chat-software
2: https://azure.microsoft.com/en-us/