P360 Presents ZING During the Diversity Alliance for Science's (DA4S) East Coast Conference
P360 Presents ZING During the Diversity Alliance for Science's (DA4S) East Coast Conference
Kimberly Gregorio | May 3, 2023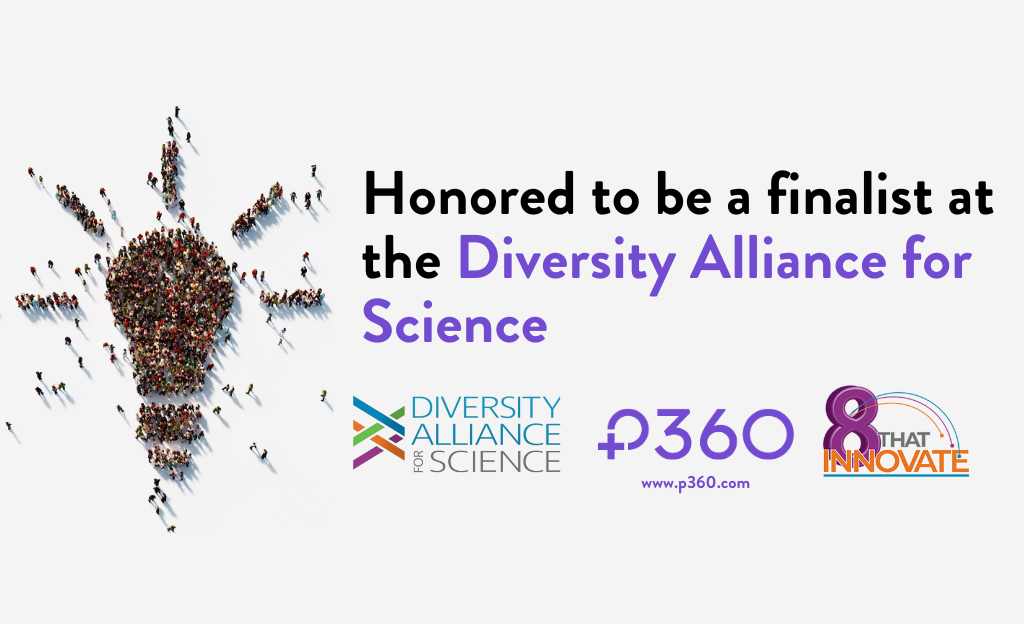 We are excited to share that P360's latest innovation, the ZING Engagement Suite, was showcased during the Diversity Alliance for Science's (DA4S) East Coast Conference. P360 was among eight other companies that took part in this year's "Eight That Innovate" program, which showcases organizations and individuals that have developed innovative new ways to drive value within the life sciences industry. The event took place from May 2-4 in New Jersey. Details on the event can be found HERE1.
Why P360 was Selected?
P360 was recognized for its best-in-class healthcare professional (HCP) engagement solution, the ZING Engagement Suite. ZING enables pharmaceutical sales teams to engage with HCPs without barriers. There are no apps to download or logins to deal with.
One of the highlights of ZING is its ability to connect sales reps with HCPs through text messaging, two-way voice and video calling, onscreen collaboration and form sharing, inbound communications with QR code scanning, artificial intelligence (AI) assistance, signature capture, easy access integrations and more. Sales teams can use these features to communicate directly and securely with HCPs. And compliance has access to controls that enable teams to comply with the strict regulations that govern the pharmaceutical industry.
What is Eight That Innovate program?
Eight That Innovate is one of the most highly anticipated sessions of the DA4S East Coast Conference. The session allows small and diverse businesses to demonstrate their innovation and creative thinking in front of a panel of judges and a vast audience. This year's honorees included Acumen, Bracane Company, Inc, Diligent Qualification Platform, Crave Infotech, LanceSoft, M&B Sciences, and P360. During the session, these eight companies pitched their innovations to a panel of judges and the audience.
A key benefit for all that participated in the Eight That Innovate session was that they had a rare opportunity to showcase their product to a curated audience. Each team had a set time to present their innovative idea followed by a Q&A session. The judges on the panel were top experts in the life sciences field.
What is the Diversity Alliance for Science DA4S?
In today's world, diversity and inclusivity are becoming increasingly important topics, especially in the business world. This is because companies, academic institutions and governments have realized diverse organizations tend to perform better, generate more revenue and have happier employees. And in the life sciences industry, one organization that's making a big impact is DA4S.
DA4S is a non-profit organization established in 2008 that provides a platform that creates business development opportunities for small and diverse businesses within the life science industry. DA4S has more than 485 members, partnered with 800+ companies and hosted 45+ events. Its most recent event, the East Coast Conference, occurred in New Jersey from May 2-4, 2023.
The DA4S Mission
DA4S's main mission is to provide resources that aid in creating opportunities for small and/or diverse businesses in the life science industry. The organization is dedicated to ensuring that there are opportunities for growth and development for all types of businesses. DA4S advocates for greater diversity representation in the supply chain through inclusive procurement practices, and it offers services like mentorship programs, business summits and supplier readiness workshops to support small businesses.
How DA4S Impacts Patient Care
DA4S's initiatives effectively impact the quality of patient care. By providing a platform for small businesses to connect and collaborate with large organizations, DA4S ensures that there is a variety of innovative solutions and products in the life sciences industry. DA4S helps small and diverse enterprises bring innovative ideas that ultimately enhance patient outcomes.
How DA4S Helps Businesses
DA4S offers a wide range of services that help small and diverse businesses compete in the life science industry. Through its resources like supplier readiness training, mentorship programs, and business events, DA4S provides the tools and knowledge that businesses need to compete and grow in the market. DA4S also provides a platform for small and diverse businesses to connect with each other. Through networking and other activities, DA4S helps businesses develop mutually beneficial relationships that can lead to partnerships and collaborations. Additionally, DA4S helps businesses form relationships with larger corporations and other stakeholders.
Closing Thoughts
DA4S has accomplished a lot over the years, and its achievements are a testament to the dedication and hard work of its leaders and members. And that work has helped hundreds of small and diverse businesses. It has also enhanced the quality of life science services to the benefit of patients and the industry as a whole. As such, DA4S is a great resource for diverse businesses seeking to compete and grow in the life sciences market. To view a lineup of upcoming events, visit the DA4S website2.
References
1. https://diversityallianceforscience.com/2023-east-coast-conference/ 2. https://diversityallianceforscience.com/