ZING Enables Compliant Messaging With HCPs for better HCP Engagement
Kathleen McQuade | May 10, 2022
Is your HCP engagement strategy dependent on in-person visits and email? If so, you're not alone. But with physicians and hospitals closing the door on in-person visits, and with nearly 80% of marketing-related emails going unread1, it's time for a change. We get it; change can be difficult. But with change comes opportunity. And adopting a digital-first approach to HCP engagement is the change your brand needs
Even as far back as 2014, 90% of physicians2 were using their smartphones to access pharma-related information. And today, prescribers and their staff are using their devices to do even more, including communicating with pharma reps. As a matter of fact, 82% of the physicians we surveyed said they valued texting with reps over all other modes of communication. The reason for this is simple, text messaging saves them time and it eliminates unnecessary visits.
To help your sales and marketing teams take advantage of this, we've developed the newly launched ZING Engagement Suite. This innovative suite of technologies enables compliant omnichannel HCP engagement by enhancing existing communication channels with features including text messaging, two-way voice and video calling, onscreen collaboration and form sharing, inbound communications with QR code scanning, artificial intelligence (AI) assistance, signature capture, easy access integrations and more. As P360 CEO and Founder Anupam Nandwana puts it:
"The ZING Engagement Suite is the only platform available that equips pharmaceutical sales and marketing teams with everything they need to engage with healthcare professionals in a streamlined, digital-first manner; which is quickly becoming the norm. ZING integrates with leading CRMs and is full of powerful features that enhance any sales enablement strategy or workflow. But for HCPs, ZING offers a seamless, hassle-free experience that is seen as nothing different from their normal mobile communication method. There are no apps to download or logins and subscriptions for end-users to deal with."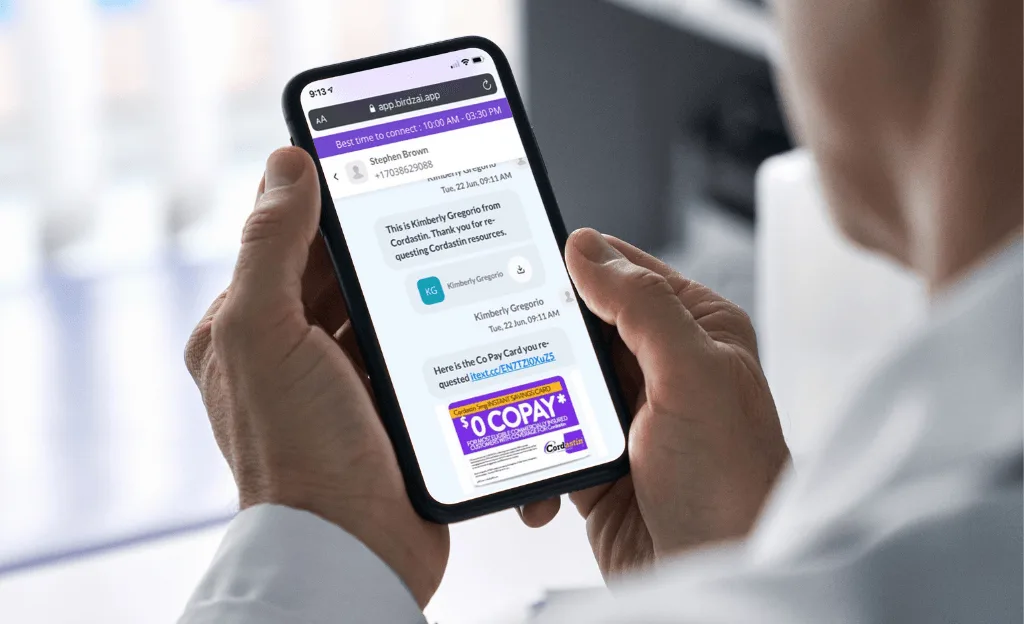 The ZING Engagement Suite is the next generation of P360's previously announced ZING Communication Module. Strengthened with several new enterprise-grade features, the ZING Engagement Suite is a robust, multi-modal unified communication as a service (UCaaS) platform that enables pharma teams to engage with HCPs without barriers. And one of ZING's key features is compliance-enabled two-way text messaging. Without the need for end-user downloads or logins, ZING offers HCPs a seamless, hassle-free experience that's seen as nothing different than their normal method for receiving texts.
ZING's two-way text messaging capabilities allows pharma reps to exchange messages with HCPs in support of logical and promotional messages, including digital media and attachments. Compliance approved templates and messages can be preloaded into the system, ensuring that prescribers don't receive content they shouldn't. And HCPs receive messages with ease on their mobile devices via SMS or WhatsApp.
Explore More Relevant Articles on P360
Some of the innovative ways that SMS text messaging improves HCP engagement is by:
Enabling reps to overcome access issues associated with in-person visits
Removing dependence on emails, which often go to spam
Eliminating the need for cumbersome app downloads or HCP portal logins (too many apps and portals to log into and too many passwords to remember)
Helping reps navigate compliance challenges
Enabling reps to send digital assets instantly
The ZING Engagement Suite enables personalized 1:1 communication using native text messaging on a HCPs iOS or Android device with pre-built integrations with major CRMs. This makes it easy for pharma IT teams in terms of data management and integrity for things like territory alignments, roster changes and other specific data integration needs. Compliance can track every communication, end-to-end. And managers can measure activity and results with ZING's powerful dashboards.
To see ZING in action, check out this short demonstration video. And to read more about ZING's other features, please see our informative article.
References:
1. https://www.campaignmonitor.com/blog/email-marketing/2019/01/roi-showdown-sms-marketing-vs-email-marketing/#:~:text=Research%20shows%20that%20SMS%20
2. https://www.ncbi.nlm.nih.gov/pmc/articles/PMC4029126/