June 19, 2023
P360 Announces Joining of Susan Lucas Collins as Sr. Vice President of Go-To-Market Strategy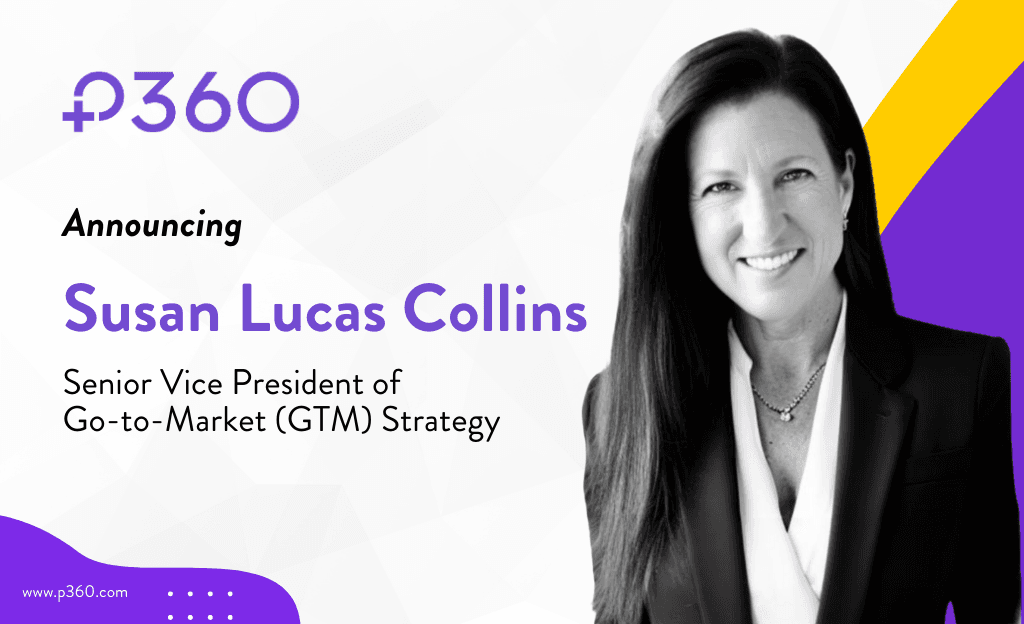 PISCATAWAY TOWNSHIP, NJ – June 19, 2023
P360, leading technology developers for the life sciences industry, revealed that renowned technology executive Susan Lucas Collins has joined the fast-growing company as Senior Vice President of Go-to-Market (GTM) Strategy. Collins brings over two decades of experience in the healthcare and life sciences technology sectors to her new role, where she will focus on growing P360's market share and expanding its strategic partnerships.
"Susan is a dynamic and experienced executive joining us at an exciting time, and I'm pleased to welcome her to P360's leadership team," said Anupam Nandwana, Co-Founder and CEO of P360. "She's a collaborative executive known for developing sound, pragmatic strategies that enable technology companies to thrive worldwide in heavily regulated healthcare and life sciences markets. And as we continue to innovate and streamline our operations, she will lead initiatives across our business units that drive exceptional results for our clients and patients alike."
Collins has a strong track record of driving growth and revenue through strategic GTM initiatives. Over her 25-year career, she has guided enterprise strategy, innovation and operations for some of the most prominent companies in the industry. Most recently, Collins lead the GTM strategy for healthcare and life sciences at Twilio, a leading Communications Platform as a Service provider. Prior to that, she was Executive Vice President of Global Field Operations & Strategy for Jawbone Health (now all.health), where she designed the launch of the organization's wearable, AI-powered chronic disease management solution for conditions like diabetes, hypertension and COVID-19.
Collins is also widely known for her leadership of Salesforce's healthcare business, where she served as General Manager, advising the firm's largest customers on digital transformation and negotiating strategic partnership agreements with leading health tech firms. She also successfully re-launched Salesforce's healthcare product offering and created the category of Enterprise Health Cloud, now leveraged by analysts tracking the healthcare CRM space. Her vast experience within CRM ecosystems will enable Collins to help pharma sales teams traverse the current enterprise software landscape by leveraging the ZING Engagement Suite.
"I am honored and excited to be joining the very talented team at P360," said Susan Lucas Collins, P360's Senior Vice President of GTM Strategy. "I was fortunate to have worked with P360 while I was at Twillio, and the team's amazing reputation for helping pharmaceutical and life sciences organizations achieve their business objectives through innovation is well-earned. I look forward to our work ahead as we continue helping pharma sales teams tackle complex initiatives like streamlining HCP engagement, customizing CRM workflows, improving data management and optimizing sales intelligence through AI integration."
Delivering a 360° view through the pharma, physician and patient ecosystem, P360 designs and deploys capabilities that ensure the highest efficiencies and returns on sales operations, data management, patient centricity and IoT innovation. With expertise in supporting commercial operations for some of pharma's top 10 companies and organizations of all sizes, P360 has built industry-leading products that give customers ownership of their data and the ability to leverage cutting-edge technologies like AI, IoT and mobile engagement efficiently, effectively and compliantly.
For more information, visit P360.com
Explore More Relevant Articles on P360
About P360
Based in Piscataway Township, New Jersey, P360 is a leading technology developer for the life sciences industry. We specialize in technology that improves operational efficiency, enables end-to-end visibility, streamlines workflows and boosts physician engagement. Product offerings include the ZING Engagement Suite, BirdzAI, Swittons and Patient360. To learn more about P360, visit P360.com.
Contact:
Brian Fitzgerald
Latest News