How Digital Technology is Impacting the Pharma Sales
Edward Vaz | October 13, 2021
Download and share our informative infographic.
Announcing our Informative Infographic series. It's the first in new series where we'll bring you the facts, figures and latest trends that are having an impact on the pharmaceutical industry. On a regular basis, our INFOGRAPHIC SERIES will provide information you can use in an easy to read, infographic format. Just look for our posts with the giant "i" icon.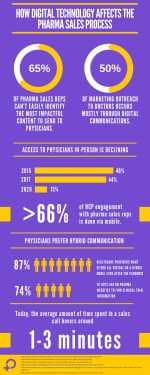 Out of respect for your time, we will also be sharing the information in a bulleted format. We'll list all highlights, so you can get the information as quickly and efficiently as possible.
For our first infographic, we've put together some insightful statistics on how digital technology is affecting the Pharma Sales process. Highlights include:
In-person access to physicians has declined by 31% from 2017-2020.
65% of pharma sales reps can't easily identify the most impactful content to send to Physicians.
50% of marketing outreach to doctors occurs mostly through digital communication.
>66% of HCP Engagement with pharma sales reps is done via mobile.
87% of healthcare providers want either all virtual or a hybrid model even after the pandemic.
Also, be sure to follow us on Twitter and LinkedIn, where you'll get the first look at these helpful resources.
Explore More Relevant Articles on P360