How To Elevate Pharma Sales Communication With Digital Technology
Brian Fitzgerald | December 6, 2021
The pharmaceutical industry is in the midst of a full-blown digital revolution. Digital technology is taking the industry by the storm, and for a good reason.
Physicians' demand for a more personalized selling approach is one of the many driving forces behind this trend.
Although access to physicians has been decreasing over the past decade, the value of face-to-face customer interaction is still undeniable.
Pharma companies have realized that to drive prescriptions, they need to quickly adapt and reach for technological solutions that can serve the needs of their mobile sales force.
Internal & External Pharma Sales Communication In The Digital Era
Most pharmaceutical companies have hundreds and even thousands of reps on the ground. Maintaining close communication between the home office and sales force can be a challenge.
Internal and external sales communication is an area that could benefit significantly from the implementation of digital technology.
Take a new product launch, for example. It is essential to focus not only on external communications but also on internal disease state communication and education directed at employees.
Digital technology makes it possible for companies to reach their sales teams in real-time and effortlessly distribute time-sensitive information.
Mobile Apps
Mobile apps allow pharma reps to engage their customers in a much more personalized manner. Customization is the name of the game. Being able to share marketing content that is tailored to each physician's needs is truly an edge. In addition, digital technology also offers the ability to track performance in real-time, delivering insight into how content is utilized. All the big players in the pharma industry utilize digital apps to go beyond the traditional model of delivering sales calls with a printed visual aid or online brochure. Using digital solutions not only sets these more innovative companies apart from others but also increases the perceived value of their sales reps.
Most cloud-based platforms include real-time analytics, which can drastically improve employee performance and optimize future sales interactions.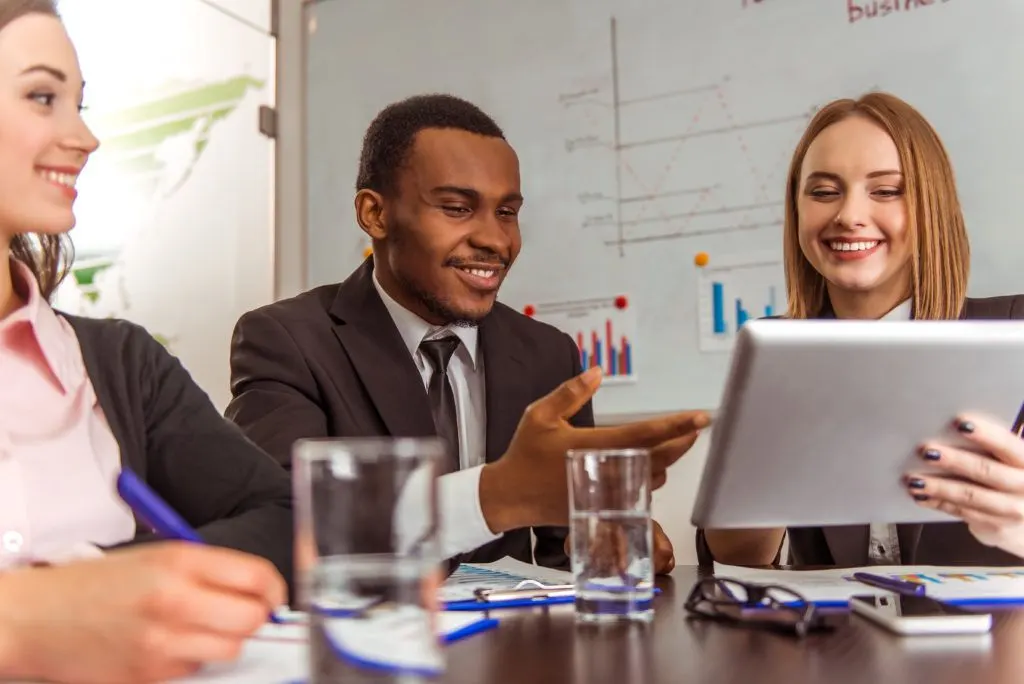 Artificial Intelligence (AI)
An increasing number of companies are now exploring the commercial impact of Artificial Intelligence. Although the technology isn't new, the industry only recently started tapping into its vast potential.
In 2018, only about 15% of companies1 were using AI but 31% were planning on implementing the technology before that year came to an end. - Towards Dat Science
In today's hyper-competitive marketplace, such a remarkable increase could easily translate into a competitive advantage. Here are some of the ways AI can help improve sales force effectiveness:
By performing customer segmentation all in its own, AI helps your sales teams customize their sales activity.

AI can recommend sales materials based on previous sales calls. Why is this important? Because with relevant content in hand, your sales reps will be more likely to engage their customers in a product-related discussion. Everyone wins!

You can use AI to tell sales reps precisely what to say during sales calls. This way, you can make sure that your reps stay with the correct message and share the information that the providers are interested in.
As you can see, AI can relieve your reps from some of their responsibilities. By doing so, it can increase sales force efficiency, and enhance internal communication between sales reps and home office.
-You can use AI to tell sales reps precisely what to say during sales calls. This way, you can make sure that your reps stay with the correct message and share the information that the providers are interested in.
Tablets
Today, it is almost impossible to imagine a drug rep without a tablet. Better yet, a tablet equipped with cloud-based technology. What a change, compared to 15 years ago, when laptops were the only option.
Communication was challenging between the home office and sales force. Field reps often felt like they were the last to find out any news from headquarters.
Without the ability to disseminate vital information real-time, companies had to rely on their chain of command. It took a long time for information to make its way from the top, all the way to the field reps.
The inability to communicate formulary changes, important announcements in a timely fashion caused many companies to miss out on potential opportunities.
Chatbots
Chatbots offer another creative way for pharma companies to interact with their clients. Chatbots mimic human communication via text, offering the industry an opportunity to have one-on-one conversations with its customers.
These intelligent virtual assistants enable companies to strengthen their relationship with doctors and patients by assisting them directly.
One of the best ways for pharmaceutical companies to take advantage of AI-based chatbot solution is by automating repetitive processes of sales rep detailing. When the chatbot is integrated into the company's CRM system, it can send
• Important Reminders
• Schedule Appointments
• Push Notifications
• Sample Orders Automatically
This automation can save a significant amount of time for drug reps and allow them to focus on more critical tasks.
Explore More Relevant Articles on P360
Mobile technology can unquestionably enhance how pharmaceutical reps work. The potential for mobility is tremendous, and companies recognize the opportunity they represent.
Mobile technology is fundamental if you want to create an effective sales force. With the help of mobile devices, your reps can plan their routes, complete administrative tasks anywhere, anytime. They can even video chat with teammates, manager or customers.
If you are considering the technology, make sure the apps and the platforms are not too complicated. To ensure that your reps will make good use of the mobile solution, make sure you design it with them in mind.
If you have any questions or believe we left anything out that's worth mentioning, please feel free to leave them in the comment section below!
Learn about how our Pharma Sales Operations and Data Analytics solutions can improve internal and external communication with your sales teams.
References
1. https://towardsdatascience.com/15-artificial-intelligence-ai-stats-you-need-to-know-in-2018-b6c5eac958e5?gi=8f99f6ee8a04