July 7, 2023
What Pharma Sales Teams Need To Know About Compliance And The ECCP?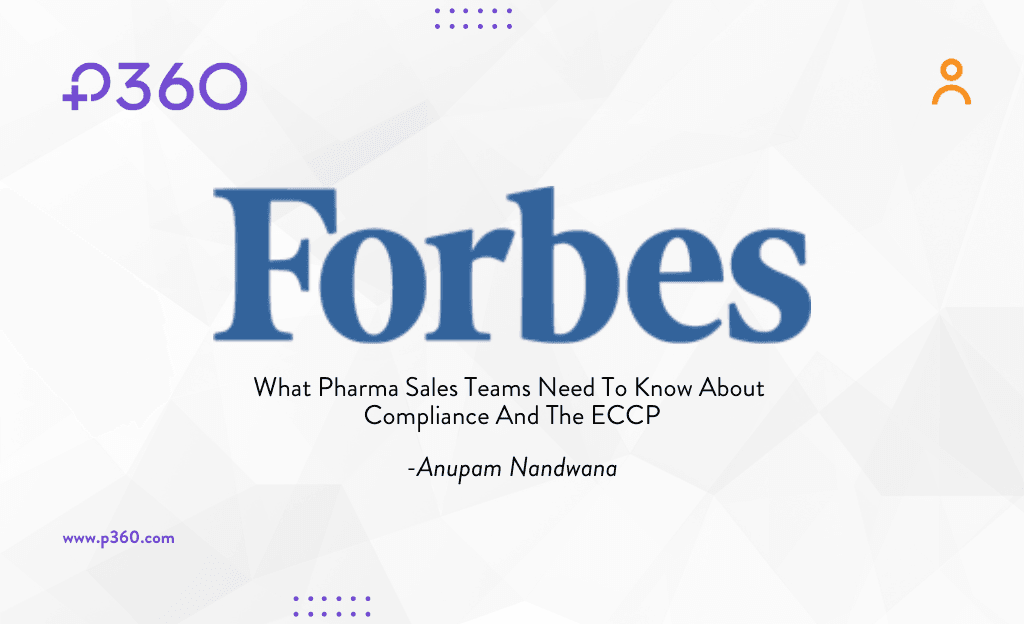 Anupam Nandwana is co-founder and CEO of P360, a leading developer of technology for the life sciences industry.
Compliance within the pharmaceutical industry is an essential aspect of conducting business, ensuring the safety of consumers and avoiding the unlawful promotion and distribution of drugs. A violation in compliance not only poses a legal risk for the company but could also undermine its reputation. Therefore, pharmaceutical sales teams must understand the regulations and guidelines surrounding their sales practices and how they can comply with these rules. But what makes things difficult is that there are dozens of laws and regulations that pharmaceutical sales teams must abide by, including the Federal Communications Commission's (FCC) Telephone Consumer Protection Act (TCPA), the Federal Trade Commission's (FTC) CAN-SPAM Act, the Health Insurance Portability and Accountability Act of 1996 (HIPAA), FCPA (Foreign Corrupt Practices Act) and the U.S. Department of Justice's (DOJ) Evaluation of Corporate Compliance Programs (ECCP).
Recently, the DOJ's Criminal Division released an update1 to the ECCP that pharmaceutical companies need to be aware of. The first major revision to the ECCP involves using personal devices, communications platforms and messaging applications, including ephemeral messaging applications. Sales teams often use personal devices to communicate with doctors and other healthcare providers. The new guidance emphasizes the need for companies to have policies and procedures to retain all business-related communications while ensuring that employees are not using unapproved applications and devices to conduct business.
The second significant revision to the ECCP involves expanded guidance on how compensation structures can drive compliance, including financial penalties such as compensation clawback provisions to disincentivize noncompliant behavior. The guidance encourages companies to establish a strong link between compliance and compensation. This means that compensation plans should reward employees who exhibit strong compliance ethics and punish those who do not. Pharmaceutical sales teams must consider these compensation structures and ensure their actions align with company policies and ethics.
Why Complying With The ECCP Is Essential
1. Protection Of Public Health
Providing a safe and effective solution for patients in the healthcare industry is paramount. Abiding by healthcare providers' standards, regulations and ethical guidelines helps protect the public's health and ensures patients receive the best care they deserve. Inadequate compliance can lead to serious harms to the patient and cause severe damage to the reputation of pharmaceutical companies.
2. Avoiding Legal Consequences
Pharmaceutical companies must abide by countless laws, such as FDA (Food and Drug Administration), FCPA (Foreign Corrupt Practices Act), HIPAA (Health Insurance Portability and Accountability Act) and many others. Failure to comply with these regulations can result in fines, prosecution and even imprisonment of individuals. Therefore, compliance is crucial to avoid legal consequences.
3. Improving Brand Reputation
Pharmaceutical companies rely on their brand reputation for long-term success. Negative publicity can harm sales and profits. And in some cases, it can result in the discontinuation of a particular product. Since a customer's trust is essential, companies must comply with the law and ethical guidelines. Failure to adhere to such guidelines can lead to a loss of reputation, consumer trust and ultimately a loss in sales.
4. Upholding Ethical Responsibility
Pharmaceutical companies have the ethical responsibility to ensure the business's survival while providing the public with safe and effective healthcare solutions. Compliance fosters this ethical responsibility, ensuring that companies maintain the highest standards of professionalism, ethics and behavior.
What Pharma Sales Teams Can Do
Pharmaceutical sales teams must adhere to the ECCP's principles and instructions. And here are six steps organizations of all sizes can take to help ensure their commercial operations remain compliant.
1. Provide training
Make sure your sales representatives are trained on the regulations of the pharmaceutical industry. Training can help employees understand the boundaries of regulatory compliance and how to avoid violations, making them valuable assets to the organization.
2. Create a culture of accountability.
Business leaders should set clear expectations when it comes to accountability, and they also need to model the behaviors they expect from their employees. To do this, leaders should hold quarterly or biannual meetups to discuss ethical behavior, transparency and accountability expectations. Checklists can also help employees ensure they are meeting their leaders' expectations. Establish an environment that prioritizes compliance encourages employees to promptly report ethical or legal violations. This gives employees a sense of shared responsibility by aligning them with the organization's values.
3. Understand the role of personal devices and communication channels.
With the rise of mobile communication and messaging apps, employees can easily initiate inappropriate conversations with clients, employees or anyone within their network. It's crucial to have a clear policy in place. Companies should leverage new software tools to create dedicated communication channels for all company business, whether conducted on a company device or personal device. The updated ECCP also includes recommendations on the best practices regarding using personal devices for business.
4. Retain documents.
One aspect of compliance that is often overlooked is document retention. The new ECCP update underscores the importance of robust systems to retain and produce documents for regulatory inquiries. Ensure that these systems should include policies for creating and retaining business-related documents and procedures for responding to regulatory inquiries.
5. Examine compensation structures
The performance of pharmaceutical sales reps is often incentivized by sales commissions and other financial incentive structures. These compensation structures can drive behavior, and noncompliant practices may surface. Therefore, there must be a balance between financial motivation and compliance, which requires the company's leadership to carefully consider their compensation policies and align their principles with ethical and moral directives.
6. Continuously monitor and improve.
Finally, the ECCP update emphasizes the importance of continuous monitoring and improvement of compliance programs. Pharmaceutical companies must have systems to monitor and test their compliance programs continuously. Make sure these systems include regular risk assessments and audits, employee surveys and an ongoing dialogue with regulatory authorities. Be aware of your role in ensuring compliance programs are effective and efficient.
Closing Thoughts
The ECCP update is a reminder that compliance is a continual process that requires the involvement of all employees, including pharmaceutical sales teams. Sales teams must be mindful of the new guidance on personal devices and communications platforms and adhere to company policies and procedures. They must also know the importance of compensation structures, document retention and compliance with ethical standards. Doing so will help companies thrive while minimizing noncompliance's legal and reputational risks.
Explore More Relevant Articles on P360
References
1. https://www.forbes.com/sites/robertzafft/2023/03/06/the-doj-updates-its-compliance-guidance-from-prisoners-dilemma-to-rat-race/?sh=269614fa3e88
Contact:
Brian Fitzgerald
Latest News