Five Reasons Digital Transformation is the Answer
Brian Fitzgerald | December 8, 2021
Download and share our informative infographic.
Download our informative infographic.
Welcome to part 2 of our new infographic series. We hope that you found the first infographic to be informative and insightful. But if you happened to miss it, don't worry. It remains visible
For the second infographic in our series we have put together the top five reasons why digital transformation is the answer to your physician engagement woes. The infographic highlights just how important digital transformation is for pharmaceutical companies that want to keep pace with the ever-changing pharma-to-physician dynamic.
Changing policies, tightening regulations and the pandemic are all forcing pharmaceutical commercial organizations to change the way they communicate with healthcare professionals (HCPs) and their staff. Pharma-to-physician interactions have shifted away from face-to-face meetings, with a majority now taking place virtually. And as such, digital is now the new normal for those looking to stay connected with HCPs.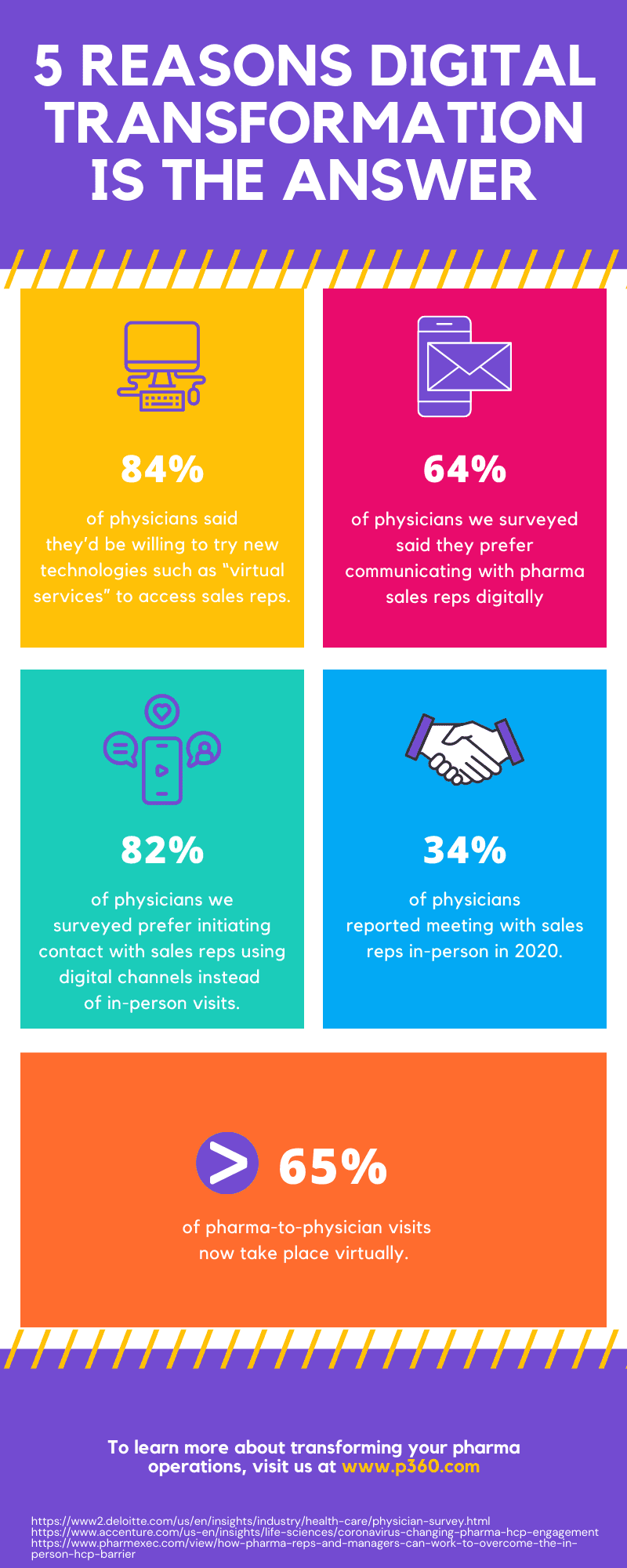 The good news is, there are some exciting new digital solutions on the market that can help your sales reps remain engaged with their HCP partners. But if you aren't sure if digital strategies are right for your organization, you need to check out our latest infographic. Here are a few highlights:
34% of physicians surveyed reported meeting with sales reps in-person in 2020.

82% of physicians said they prefer initiating contact with sales reps using digital channels instead of in-person visits.

More than 65% of pharma-to-physician visits now take place virtually.
Explore More Relevant Articles on P360
Check out the infographic below for more information. You can also download the PDF