How Decentralized Clinical Trials Will Reopen the Drug Development Pipeline
Kimberly Brue | April 8, 2021
Although the COVID-19 pandemic can be credited with pushing the development process for emergency vaccines into hyper drive, it will mostly be remembered for the devastating impact it has had on mortality rates, the economy and society in general. These unprecedented side effects have not only pushed the limits of current healthcare, they have created a significant strain on the development pipeline for future life-saving therapeutics as well. A primary contributor to this is the fact that hospitals and clinics have had to limit non-essential patient visits for clinical trials. This has resulted in significant delays for pharmaceutical research and development.
COVID-19 has created a clinical trial backlog
According to media reports1, more than 1,000 clinical trials have been put on hold since the pandemic. Nearly every clinical research site in the US has reported that one or more of its ongoing clinical trial studies has been delayed or halted because of the pandemic. The primary concern has been the possibility of virus spread among clinical trial participants, nearby patients and healthcare workers. In addition, staffing shortages, travel restrictions, supply chain woes and other restrictions are a few of the obstacles clinical trials have faced during the pandemic.
To contend with this, Clinical Research Organizations (CRO) and life sciences companies have been scrambling to incorporate remote processes for operating clinical trials. This has spurred a cottage industry of sorts for decentralized clinical trials.
Digital transformation takes center stage
With the emergence of clinical trial management systems, CROs and life sciences organizations are now able to more easily perform decentralized, virtual clinical trials. And the practice of administering decentralized clinical trials is picking up momentum, both because of the pandemic and the cost savings they provide. This, according to some experts, has made decentralized clinical trials a must for CROs.
Although the practice of decentralized clinical trials is still in its infancy, more than 50 life sciences and healthcare organizations have joined forces for the Decentralized Trials & Research Alliance (DTRA). DTRA is working to unite industry stakeholders with a singular mission to make clinical trial participation widely accessible by advancing policies, research practices and new technologies in decentralized clinical research. This commitment to decentralized clinical trials ensures the field isn't going anywhere soon.
Smart devices offer hope
In addition to innovative platforms like Trials360, emerging Internet of Things (IoT) enabled smart devices like Swittons are also helping CROs and pharmaceutical organizations get clinical trials back on track. P360 believes that IoT-based clinical trials will reimagine clinical development2 and revolutionize the entire trial process.
According to P360 CEO Anupam Nandwana, "In order to increase the flexibility of clinical trials and boost participation of patients in trials, it is important to combine technology with functionality. IoT devices designed for clinical trials not only assist CROs in improving patient-centricity by ensuring participant's safety and satisfaction, they also help with real-time data collection and processing."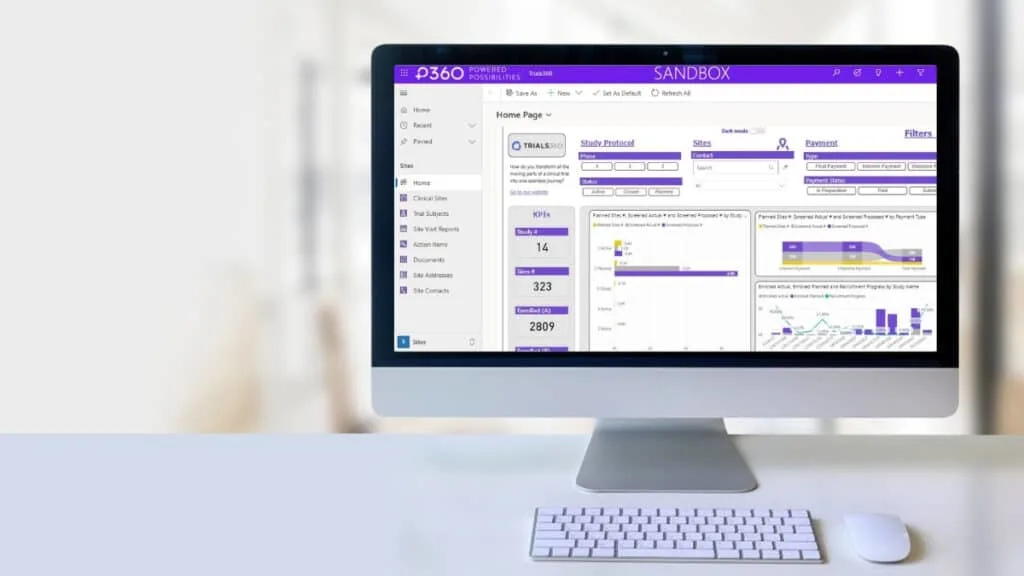 Decentralized trials help with patient recruitment and retention
One of the things that often hinder clinical trials is recruiting and retaining participants3. The reason this hurdle exists often has to do with location. The clinical trial location can make it difficult for willing and qualified patients to participate. This can even create other serious challenges when it comes to the diversity of participants.
The FDA has gone so far as requiring that organizations make trial participation less burdensome4 for participants, and advises that they should consider the implementation of advanced mobile tools in lieu of a site visit. IoT-powered smart devices answer this call by enabling remote, push-button participation in clinical trials by key populations – no matter where they might be. In addition, smart devices like Swittons integrate easily with clinical trial management systems (CTMS) like Trials360.
Patient-centricity is key
Patient-centricity5 is a priority for research organizations, clinics and hospitals, and the next generation of patients will expect CROs to conduct clinical trials in a virtual environment. That's why CROs and pharmaceutical organizations are taking steps to future-proof their operations by meeting the needs of a diverse, tech-savvy clinical trial participant. Technologies like IoT hold exciting promises for the future of clinical trials, and meeting the needs of next-gen patients.
With the appropriate implementation of remote patient-facing technologies, virtual trials will bring improved treatments to patients in less time, at a lower cost. They will also offer much-needed help in the effort to retain participants, better monitor them6 and move the process forward. This will go a long way in unjamming the backlog of clinical trials that now haunts the healthcare system.
What will the future hold?
Systems that enable decentralized clinical trials are still in their infancy, but the door to greater possibilities has definitely been opened. The day is coming where advanced systems will have the ability to monitor a host of biochemistries and transmit results instantly, without the patient stepping out of their home. Critical therapeutic data will then go from the patient to the physician, and then to the pharmaceutical company in a simple, streamlined fashion. This workflow will significantly improve the drug development pipeline.
Technology is creating a new world of efficiencies and cost savings for clinical trials, and systems that enable decentralized trials are leading the pack. We are definitely in the midst of a digital revolution, one that will free the development pipeline from the logjam created by the COVID-19 pandemic.
Explore More Relevant Articles on P360
About P360
Delivering a 360 view through the pharma, physician and patient ecosystem, P360 designs and deploys capabilities that ensure the highest efficiencies and returns on sales operations, data management, clinical trials, patient centricity, and IoT innovation. With expertise in supporting commercial operations for companies of all sizes, P360 has built an industry-leading platform that gives customers ownership of their data and the ability to leverage artificial intelligence and machine learning capabilities.
References
1: https://www.ajmc.com/view/current-and-evolving-treatment-strategies-for-the-alzheimer-disease-continuum
2: https://www.pharmavoice.com/wp-content/uploads/PV1120\_SHOWCASE\_SupplyChainManagementandSHOWCASE\_TechnologySolutions\_WM.pdf?tracker\_id=1609459200074Channels:XSocial%20MediaXEmail%20blastXBlog%20ArticlePress%20ReleaseWebsiteWebsite-ScrollingOther:%20Intended%20audience:Pharma%20Clinical,%20Pharma%20ITPriority:3Campaign%20Key%20Words:%20Clinical%20Trial%20Management%20SolutionsClinical%20Trial%20Management%20SystemPharma%20Clinical%20Trials
3: https://ieeexplore.ieee.org/abstract/document/8115590
4: https://www.fda.gov/media/127712/download
5: https://ascpt.onlinelibrary.wiley.com/doi/full/10.1111/cts.12910
6: https://www.sciencedirect.com/science/article/pii/S2542660518300349