BirdzAI and ZING: A Powerful Combination for Sales and Marketing
Kimberly Gregorio | February 9, 2021
For life sciences companies looking to gain a competitive advantage when it comes to sales and marketing operations, now is the perfect time to adopt new technologies. Thanks to advances in machine learning, artificial intelligence (AI) and automated text messaging, life sciences organizations now have the power to bring vast amounts of data from disconnected sources into laser-like focus for targeted, compliant physician engagement. The result being, enterprise-level business intelligence that helps sales and marketing operations make better decisions about customers, prospects and the overall competitive landscape without the burdens of complex manual processes.
Some might be fearful about what these advances mean for certain job functions. However, there is no need to worry. Implementing machine learning, AI and messaging automation within sales and marketing operations doesn't mean replacing reps with robots. Instead, these technologies are designed to help sales and marketing professionals focus on their strengths, which are making connections and closing deals. Research1 has found that AI-powered sales teams can generate 50% more leads and reduce call times by up to 70%.
But what does using AI and automated text messaging in sales and marketing mean for life sciences organizations? If you've been following our news, then you're probably familiar with the phrases "AI-powered sales enablement" and "compliant text messaging." We use the terms quite often when explaining individual use cases, but we haven't discussed how the technologies can be combined to form one unique, powerful solution. As such, in this blog post, we'll discuss how life sciences organizations can combine AI-powered sales enablement with automated, compliant text messaging to significantly improve sales and marketing operations.
A sales and marketing enablement platform built for you
A growing number of life sciences companies are tapping into AI's limitless potential to take sales and marketing performance to the next level. One of the most notable ways AI is making an impact is by enhancing decision-making with complex, data-driven insights.
AI helps sales teams gain a deeper understanding of customer profiles, attitudes, and behaviors in ways never before thought possible. The in-depth knowledge of healthcare provider (HCP) personas and profiles that AI generates improves segmentation and targeting, helping companies to develop customized marketing strategies much more easily. Thanks to AI, sales and marketing departments can succinctly target specific physicians based on patient types, geography and prescribing behavior without the need for focus groups, surveys and other market research methodologies.
The BirdzAI AI-powered sales and marketing enablement platform is a good example of AI in action. BirdzAI includes advanced AI capabilities that enable real-time decision-making by providing deep insights derived from a wide variety of proprietary and tertiary datasets. The sales and marketing enablement platform offers sales forecasting, churn prediction, brand propensity analysis, next best action insights and more. This helps life sciences companies eliminate the guesswork often associated with sales operations, and enables insights that manual process cannot replicate.
For example, churn forecasting capabilities put predictive analytics directly in the hands of company representatives. Sales teams can see in real-time which brands a specific physician is prescribing, and which ones they might be stepping away from. The BirdzAI platform also offer unique functionality for companies launching new drugs into the marketplace, with key features that include customer alignment, customer master data management, territory planning and sizing, call planning, incentive compensation strategy and payout, roster management and field and management reporting.
BirdzAI, which is backed by P360's robust Data360 commercial data hub, enables life sciences companies to manage their business processes and data from a single platform, eliminating manual work and operational delays. Remote teams are also able to share data with the entire enterprise without delay, no matter where they might be. And the BirdzAI sales and marketing enablement platform is the perfect complement to the ZING Communication Module, which enables automated, compliant text messaging to HCPs.
A whole new level of outreach
ZING is a stand-alone product that helps reduce mass marketing inundation, and it integrates seamlessly with the BirdzAI sales and marketing enablement platform. This innovative combination enables automated, compliant text messaging with HCPs that features real-time decision-making powered by advanced AI capabilities.
When combined with the BirdzAI sales and marketing enablement platform, ZING becomes one of the most powerful sales products on the market. Not only do companies get the intelligence needed to make great sales prospecting decisions, they get the power of an effective, efficient communication channel as well. The combination lets reps strategically communicate what they need to, when they need to, in an easy, seamless manner.
With ZING, pharmaceutical reps can send compliant, native SMS Text messages directly to physician customers without barriers. There are no Apps for end-users to download, and there are no subscriptions for them to deal with. To the end-user, ZING offers a seamless, hassle-free experience.
What makes compliant text messaging so powerful is the fact that recipients actually open and read them. According to research2, text message open rates are as high as 98%, compared to just 20% for email. This makes ZING an efficient way to effectively communicate with customers, without impacting sales resources.
ZING is also extremely flexible. The product comes equipped with text templates that can be updated often to provide variety and personalization. P360 will work with your brand team to develop starter template messages that are compliance approved, or you can create your own with the simple user interface. For sales teams, this makes for seamless engagement, because all content and message templates can be pre-approved by compliance.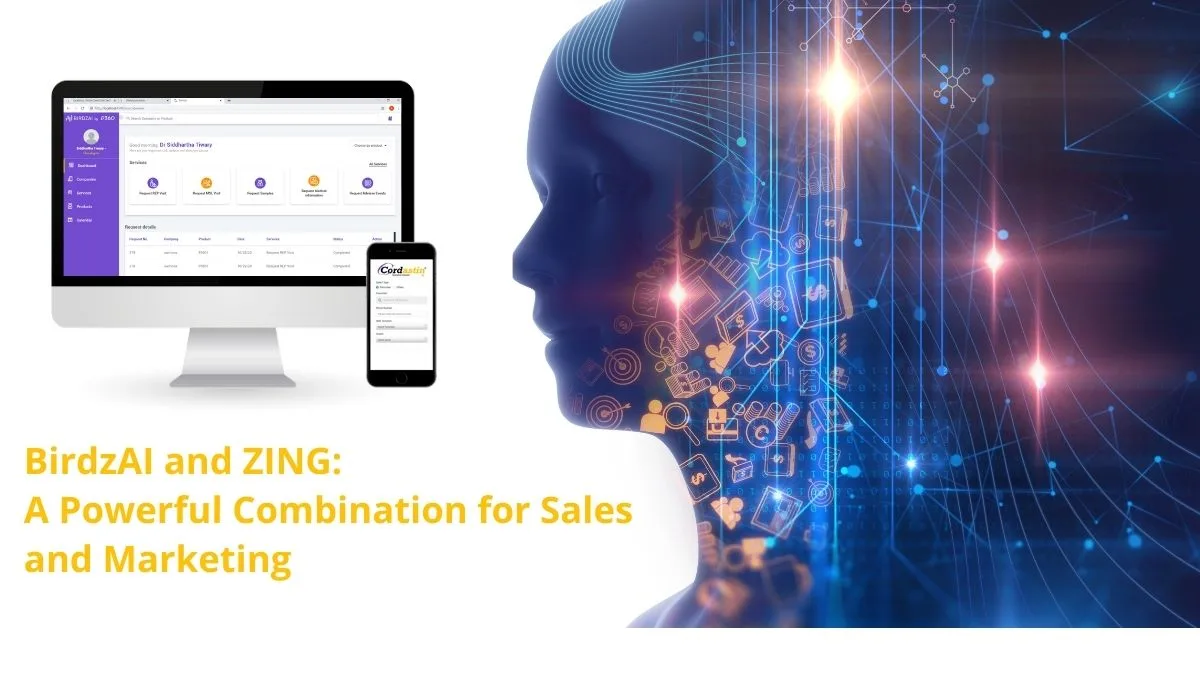 The ZING user portal can be branded and completely customized as well, and offers administrators a simple way to track individual messages, link clicks, digital asset views and more. The data from the system also integrates back to sales profiles in existing CRM systems and data hubs like Data360. The powerful backend dashboard even offers custom reporting and other management tools.
When reviewing technologies to improve sales and marketing operations, it's important to make sure they are compatible with one another. The key to successful digital transformation is ensuring all the different pieces work together effectively and efficiently. ZING integrates seamlessly with the BirdzAI sales and marketing enablement platform. As such, they combine for the perfect technology stack for any digital transformation.
About P360
Delivering a 360 view through the pharma, physician and patient ecosystem, P360 designs and deploys capabilities that ensure the highest efficiencies and returns on sales operations, data management, clinical trials, patient centricity, and IoT innovation. With expertise in supporting commercial operations for companies of all sizes, P360 has built an industry-leading platform that gives customers ownership of their data and the ability to leverage artificial intelligence and machine learning capabilities.
Explore More Relevant Articles on P360
References
1: https://www.mckinsey.com/business-functions/marketing-and-sales/our-insights/why-salespeople-need-to-develop-machine-intelligence
2: https://www.campaignmonitor.com/blog/email-marketing/2019/01/roi-showdown-sms-marketing-vs-email-marketing/text=Research%20shows%20that%20SMS%20