Diversity Alliance for Science (DA4S) Selects P360 for Eight That Innovate Program
Brian Fitzgerald | April 25, 2023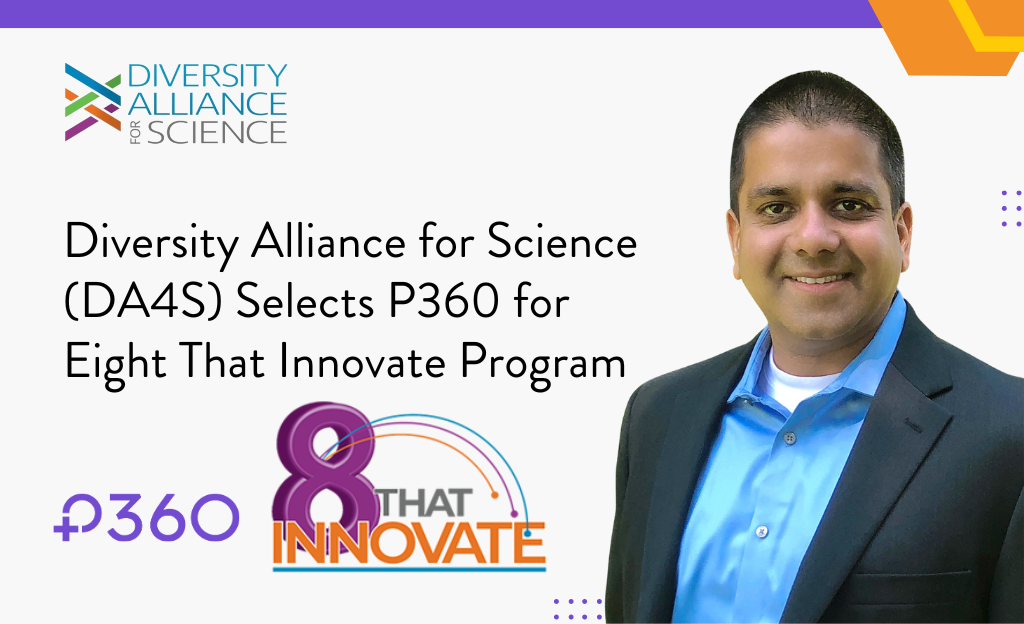 We are excited to share that a panel of judges has selected P360 as one of eight national finalists for the Diversity Alliance for Science's (DA4S) "Eight That Innovate" program1. The prestigious program showcases organizations and individuals that have developed innovative new ways to drive value within the healthcare and pharmaceutical industry. P360 was recognized for its best-in-class HCP engagement solution, the ZING Engagement Suite.
With ZING, pharmaceutical sales teams can engage with HCPs via multiple modalities without barriers. The comprehensive solution enhances existing communication channels with features including text messaging, two-way voice and video calling, onscreen collaboration and form sharing, inbound communications with QR code scanning, artificial intelligence (AI) assistance, signature capture, easy access integrations and more. And for those that want to know more, here's how each feature works.
Exchanging SMS messages with HCPs: Pharma reps and HCPs can exchange two-way text messaging in support of logical and promotional messages, including digital media and attachments. HCPs receive messages on their mobile devices via SMS or WhatsApp. Sales reps are provided with compliance-approved templates and content.

Engaging in two-way voice calling: ZING enables 1:1 calling between reps and HCPs from the same platform as SMS messaging. Reps are equipped with personalized phone numbers with local area codes for each territory. No special apps are required; users talk on their standard mobile phones and can separate work calls from personal ones.

Initiating instant video calling: No installations are required for the invitee or host and invitations can be sent by text. Includes full video conferencing capabilities that are compatible with any device or browser. The user interface (UI) can be custom branded.

Embedding video anywhere: ZING enables instant video calling from any digital channel. Call buttons can be embedded in presentations, IVAs, branded materials, websites and within CRM systems with no installation required.

Deploying intelligent bots: Pharma reps can be powered with automated responses to inbound requests (e.g., co-pay card requests). And when needed, reps can seamlessly transition the conversation back to themselves. The bots can even be personalized for each territory, rep and brand.

Capturing signatures instantly: Standard forms can be uploaded to the platform and then sent via text message for electronic signature. The platform also makes it easy to integrate data and documents into systems of record.

Communicating with QR codes: Reps can provide HCPs with QR codes that enable instant text, call or video communication. They can be personalized for each brand, with codes programmed to connect directly to appropriate reps.

Co-Browsing and form sharing: Reps can work collaboratively with HCPs and staff, sharing forms and other important documents. Teams can collect, validate and process information instantly with no additional software required on the HCP's end.

Easy scheduling: ZING includes a smart scheduling engine that helps book multiparty appointments. HCPs can accept or suggest available times instantly. Integrates with MS Office.

AI-powered content moderation: Compliance can activate AI-powered content moderation for outbound messages. Helps reps avoid social or business-related inappropriate language.
The best part about ZING is that it enables personalized 1:1 communication using native text messaging on a HCPs iOS or Android device with pre-built integrations with major CRMs. This makes it easy for pharma IT teams in terms of data management and integrity for things like territory alignments, roster changes and other specific data integration needs. Compliance can also track every communication, end-to-end. And managers can measure activity and results with ZING's powerful dashboards.
No Apps. No Logins. No Friction. And that's why HCPs and pharma teams prefer ZING over any other solution.
For more information about ZING, please visit the product landing page HERE.
References:
1. https://diversityallianceforscience.com/2023-east-coast-conference/eight-that-innovate/