What Pharma Needs to Know About 2022's Top Tech Trends
Anupam Nandwana | March 2, 2022
Ready or not, digital transformation is a reality that pharma must embrace. Here is what executives need to know.
Against the backdrop of the pandemic, pharmaceutical companies have spent the last two years digitally transforming everything from how R&D is conducted to how sales reps connect with healthcare professionals (HCPs). As a matter of fact, there is so much transformation happening that the pharmaceutical industry is on track to spend over $4.5 billion on digital transformation by 2030 1. And because of this, things like artificial intelligence (AI), machine learning, the Internet of Things (IoT), remote clinical trials and digital health have consistently dominated industry headlines. The result of which has been a frenzy of acquisitions by pharmaceutical companies looking to own the secret recipe that can guarantee them success well into the future.
For those of us that develop technologies for the pharmaceutical industry, this has been an exciting change of pace. Pharmaceutical technology executives have gone from the back office to the boardroom and are now helping shape their respective organizations' strategic direction. But with great influence comes an even greater responsibility to steer the ship towards that which ultimately improves both patient outcomes and the bottom line. And with that, I've put together some insights regarding what pharmaceutical executives should consider before diving into that next big acquisition.
The hidden value of AI and machine learning
If there's one technology that has created a fear of missing out (FOMO) mentality with the industry, it's AI (and machine learning). Undoubtedly, AI is set to transform the pharmaceutical industry completely. A big reason for this is that pharma has been rich in data from the beginning, and new ways of managing and extracting value from that data will bring established players and agile new innovators light years ahead over the next 10 years.
Early data and analytics deserve a ton of credit for laying the foundation for a faster and much more informed industry. But AI is now taking things to a whole new level, and much more quickly. The technology has gone beyond extrapolating simple insights and is now providing proactive outputs for many pharmaceutical processes, including drug formulation and predictive analysis. As a matter of fact, AI-driven drug discovery is such a hot commodity that research firm Emersion Insights estimated that $2.1 billion was invested in AI-based drug 2 discovery startups in just the first half of 2021, which makes it likely to have surpassed the total amount invested in any prior year.
There's still a lot of money on the table for AI-powered drug discovery applications. But one of the applications that pharma executives overlook when it comes to the value of AI solutions is within sales. Take AI-powered sales enablement, for example. These tools include AI and machine learning capabilities that enable real-time decision-making for sales organizations by providing deep insights derived from a wide variety of proprietary and tertiary datasets.
The benefits associated with AI-driven sales enablement are somewhat limitless. But key applications include sales forecasting, churn prediction, brand propensity analysis, next best action insights and more. AI-powered sales solutions even offer unique functionality for companies launching new drugs into the marketplace. Uses include customer alignment, customer master data management, territory planning and sizing, call planning, incentive compensation strategy and payout, churn predictions and field and management reporting.
My point is; the next time AI makes it onto the priority list, take time to evaluate its use beyond drug discovery. AI has powerful applications that can benefit the entire enterprise, especially sales.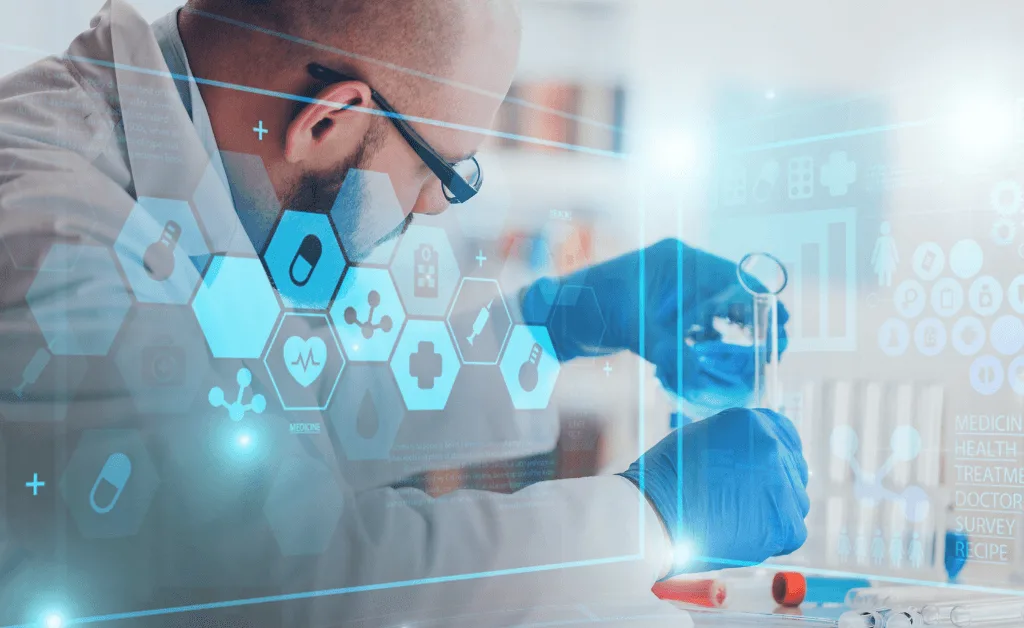 The lab of the future is today
There are major changes taking place within pharmaceutical research, development and manufacturing. Driven by technological advances and the development of precision medicines, these modernization initiatives are designed to propel laboratory efficiencies ahead exponentially. Even the very concept of what the lab is will change completely. And IoT is playing a major role in that evolution.
Platforms designed to provide pharmaceutical companies with a flexible user interface that integrates with other systems and other IoT devices will soon become standard equipment for what's being called Lab of the Future (LoTF). The reason for this is simple. IoT-powered smart devices align perfectly with these initiatives by automating various workflows between people and existing digital lab equipment, systems and solutions. Some experts even foresee a day when labs will become completely automated.
Eli Lilly and Company is already taking major steps towards the development of completely automated lab systems. The company and its industry partners have set their sights on speeding up the drug discovery process with the fully automated Lilly Life Sciences Studio (L2S2) 3 lab in San Diego. The lab will become a center where a team of automation engineers and scientists will work together on the design, implementation and operation of a variety of innovative automation projects.
Although full automation will have many benefits, pharmaceutical executives should understand that the development of fully autonomous lab systems is still on the horizon. However, systems that work hand-in-hand with humans are available today. As such, a smart laboratory (or rather LoTF) is not one where things magically happen on their own. It's one that makes its people more productive and empowers them to complete tasks in a better, more efficient way.
IoT also enables some virtual lab work, which helps pharma companies by creating efficiencies and cost savings that significantly impact the bottom line. As more data scientists have entered the R&D process, we've seen a major shift from primarily wet lab space to a more even mix of wet lab, flex lab and computational science space. Such teams, which can function effectively outside of an office-like setting, are able to work remotely without disruption thanks to IoT and other technologies.
Digital healthcare will emerge from its infancy
Much like it was for pharma, the pandemic triggered healthcare providers and institutions to ramp up on innovation. And although we've already witnessed some significant changes in how healthcare is delivered, over the next decade, we'll see even more dramatic changes. The ultimate goal of this is: the ability to provide better care to more people at a lower cost and in a more precise manner. Factors like advances in genetics, preventative medical technologies, neuro-engineering, intelligent prosthetics and new imaging technologies will help lead the way.
Along with those developments, digital health will completely transform the pharmaceutical industry by enabling companies to improve their competitive advantage and activate new business segments. The precursor to this is the recent shift toward patients using online health tools to manage their health, which has created an opportunity for pharmaceutical companies to engage with patients in an entirely new way. For example, digital health strategy can now be tailored to specific therapeutic areas thanks to the types of data that can now be shared by patients who opt-in. And this sharing of data will also help patients because pharmaceutical companies will have different mechanisms for providing patient education, side effect management, medication compliance and improved outcomes.
Over the coming years, pharma will pursue more targeted digital health innovations to move beyond the pill and extend the value it delivers to patients. And with that, we will soon see more companies turning to clinical-grade digital health solutions, directly impacting patient outcomes in specific therapeutic areas.
Although innovation in pharma and technology are a constant, this is definitely an exciting time for companies and patients. And as the trends above take shape, it will be interesting to see how everything plays out. But one thing is for certain, the digital transformation of our work and our lives will continue.
Explore More Relevant Articles on P360
References:
1. https://www.prnewswire.com/news-releases/pharma-industry-to-spend-4-5-billion-on-digital-transformation-by-2030--301253104.html
2. https://fortune.com/2022/01/07/sanofi-excientia-ai-drug-development-deal/
3. https://www.pharmtech.com/view/next-gen-automation-lab-aims-to-speed-up-drug-discovery-process