Adding Data Integrity to the HCP Moral Code, The Key to HCP Communication and Trust
Dr. Mandira N. Mehra, MD | April 4, 2023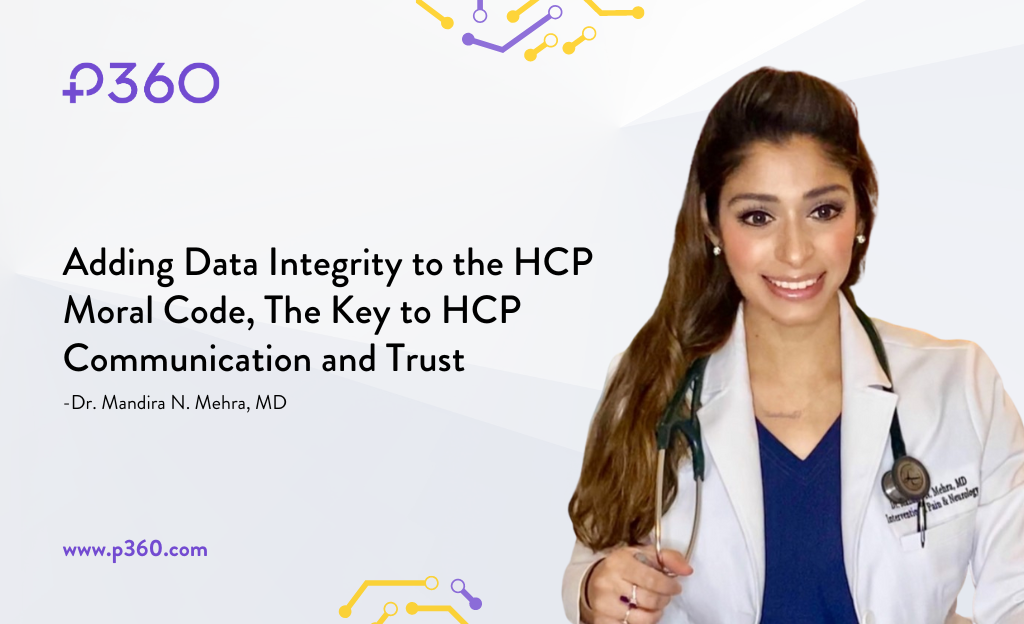 The Hippocratic oath taken by all physicians is the foundation of the moral compass used to guide patient management. Beyond "do no harm," the oath requires physicians and health care providers (HCP) to respect patients' privacy, apply all therapies required while avoiding over-treatment, and calling upon others for answers when help is needed. It is in this last requirement where the complexity and rapid changing nature of modern medicine forces HCP to rely on external resources to find answers to these questions. Given the myriad resources available, tools and services that ensure data integrity are paramount to identifying the best solution. It is in this interaction, ensuring data integrity to meet a moral obligation, where a HCP's trust can be acquired.
What Is The Hippocratic Oath
The Hippocratic Oath is a historical oath taken by physicians that dates back to ancient Greece and is named after Hippocrates, a famous physician of ancient Greece, the father of medicine. The Hippocratic Oath is a statement of ethics and values that doctors swear to uphold in their medical practice to this very day all over the world. The original version is no longer used in its entirety, but modern versions of the oath still exist and are taken by medical students and physicians. The oath includes a pledge to maintain the utmost ethical and moral standards in their practice of medicine, to treat patients with respect and dignity, and to keep patient confidentiality throughout their future practices. Some of the key principles beyond a commitment to do no harm include to always act in the best interests of the patient, to avoid engaging in any kind of malpractice, to respect patient autonomy and confidentiality, and to maintain a high level of professionalism and integrity.
The Importance of Data within HCP Communication
The incredible technologies and approved infrastructure of emerging technological platforms facilitates the establishment of such a data integrity model between the pharmaceutical representative (PR) and HCP. Like all successful co-evolved systems, a productive and mutually beneficial partnership between PR and HCP is best created through cooperation and open communication. Indeed, only with consistent and genuine interactions can there be the understanding from the most basic level to the most nuances of circumstances needed to ensure a successful relationship.
The foundation of my clinical practice as a physician and HCP is rooted in the moral obligations defined by my oath and actualized through the practice of evidence-based medicine. The clinical obligations of my practice, however, make consuming the vast body of scientific literature necessary to practice evidence-based medicine nearly impossible. For this reason, I am most responsive to PR when the transparent delivery of a product's potential clinical benefits and untoward side effects are delivered in an efficient manner and available at moment's notice. If these requirements are met, after time, my trust is earned, and that relationship is established.
Obstacles of Effective HCP Communication
In the current market, PR confronts numerous obstacles in the way of establishing a relationship with HCP and in optimizing HCP engagement. Beyond the ground level difficulties, PR, by extension, represents their c-suite executives and the public distrust of the elite. These sentiments, valid or not, ultimately come at the expense of the patient and their best clinical outcome. In my experience, these limitations arise when pharmaceutical companies and PR fail to understand my daily routines when constructing physical and digital touchpoints and misalign products with my patient populations or treatment philosophies. We can do better.
Commitment to Communication Equals a Commitment to Trust Building
As a physician, I cling to moral integrity and paramount scientific standards. I'm most responsive to device and pharma representatives when the information and therapies being promoted adhere to solid science and focus on safely advancing patient health. When this commitment and respect is shown, my trust is gained. With the continuing advancements in therapies, technologies, and available data, how do I ensure the data being presented is worthy of my trust? While government laws and policies provide a basic structure, each sector's own internal policies can vary widely. These regulatory decisions are most often made behind closed doors, at a c-suite level with no obvious transparency to the health care professionals they ultimately directly effect. Furthermore, the approach when engaging HCPs can feel more "car salesman" like rather than a moral discussion with a high degree of data integrity and sound scientific backing.
One question is paramount, "who is accountable?" The patient, pharma rep, physician, staff, hospital system, and insurance companies are amongst the obvious accountable parties that come to mind. While at the forefront of this conundrum, we often overlook a physician's input when designing operating systems, applications, communications, and patient flow models among other crucial technologies. This cliché flaw is at the root of multisystem based failures that continue to cause breakdowns in our current healthcare paradigm. The blunt reality is that the pharmaceutical industry and my goal is the same. We crave an improvement in patient outcomes. While a pharmaceutical company's motive is to support the overall success of the company, a physician's motive is to support the success of his and her patients. Regardless of the motive, this common goal can be accomplished with ethical, effective, and efficient HCP engagement. By acknowledging this common thread and committing to better communication, better trust can be establish within both parties' relationships.
How to Optimize HCP Communication
To optimize the engagement from the HCP, one must understand the challenges and then have the right tools. The digital revolution has occurred, and HCPs and patients are used to needs being met with a "one-click" approach. Most antiquated pharmaceutical marketing, engagement and education fails to build this strong relationship with HCPs. With the proper channels, technologies and marketing strategies implemented, pharmaceutical industries would revolutionize their data and integration strategies to capture HCPs rather than turning them away.
My dream is to work with my pharmaceutical representatives within a platform that is personalized and can provide the best data integrity. The culmination of this dream would be a win-win for HCP optimized engagement and pharmaceutical and product device companies. On the surface it may seem a digital engagement strategy can be implemented effortlessly. The key is to target establishing a quality relationship that yields a productive collaboration for all parties. Without this at the forefront, efforts in this light are fruitless.
The pharmaceutical industry is under the microscope with public scrutiny at an all-time high. Being in this hot seat simultaneously puts pressure on the HCP as well, a fact that is often overlooked. As a result, the HCP reaction is to withdraw from pharma and engage only when necessary. The only way to rectify this visceral reaction is for pharmaceutical companies to set optimal ethical standards in regard to data integrity, engagement and core values. Data integrity being a core value is the best place to start as a fundamental building block of their relationship. A company must be committed to delivering safe, effective, and quality therapeutics and drugs. Once this core value is established the next mission is delivery of the message with an equal value of moral reliability. In order to accomplish this, there must also be an accepting culture of errors, deviations and failures from both sides – something that can only be achieved when mutual trust is present. Despite the shortcoming being on a personal or technical level, the discovery of these problems is supreme to moving ahead effectively.
By understanding the barriers present in the various sectors of the healthcare industry, we can begin to uncover the possible solutions. The task may appear daunting; however, we must recognize we have the best and brightest minds in the industry. Our compass must be pointed north, and we must be ready to embrace technology in order to achieve better rep to HCP communication. Being accountable for our data integrity and building trust is the key. Finally, patience and persistence are required when implementing these changes. If we can work together, using the perfect platform, this mission seems more possible than ever.
About Dr. Mandira N. Mehra, MD
Dr. Mandira N. Mehra, MD is a highly skilled and experienced medical professional with over 15 years of extensive training in internal medicine. Dr. Mehra has developed a reputation for providing exceptional care to her patients, which has earned her the respect and admiration of her colleagues and patients alike.
Throughout her career, Dr. Mehra has worked with a diverse patient population, providing comprehensive medical care to individuals of all ages and backgrounds. She is highly skilled in diagnosing and treating a wide range of medical conditions, including diabetes, hypertension, and heart disease while consistently advocating for HCP communication advancements.
In addition to her clinical work, Dr. Mehra is actively involved in medical education and research. She has published several papers in leading medical journals and has presented her research at national conferences.
Dr. Mehra is a dedicated and highly respected medical professional who is committed to providing the highest quality care to her patients. Her expertise, compassion, and commitment to excellence make her an asset to the medical community and a trusted partner in her patient's health and wellness